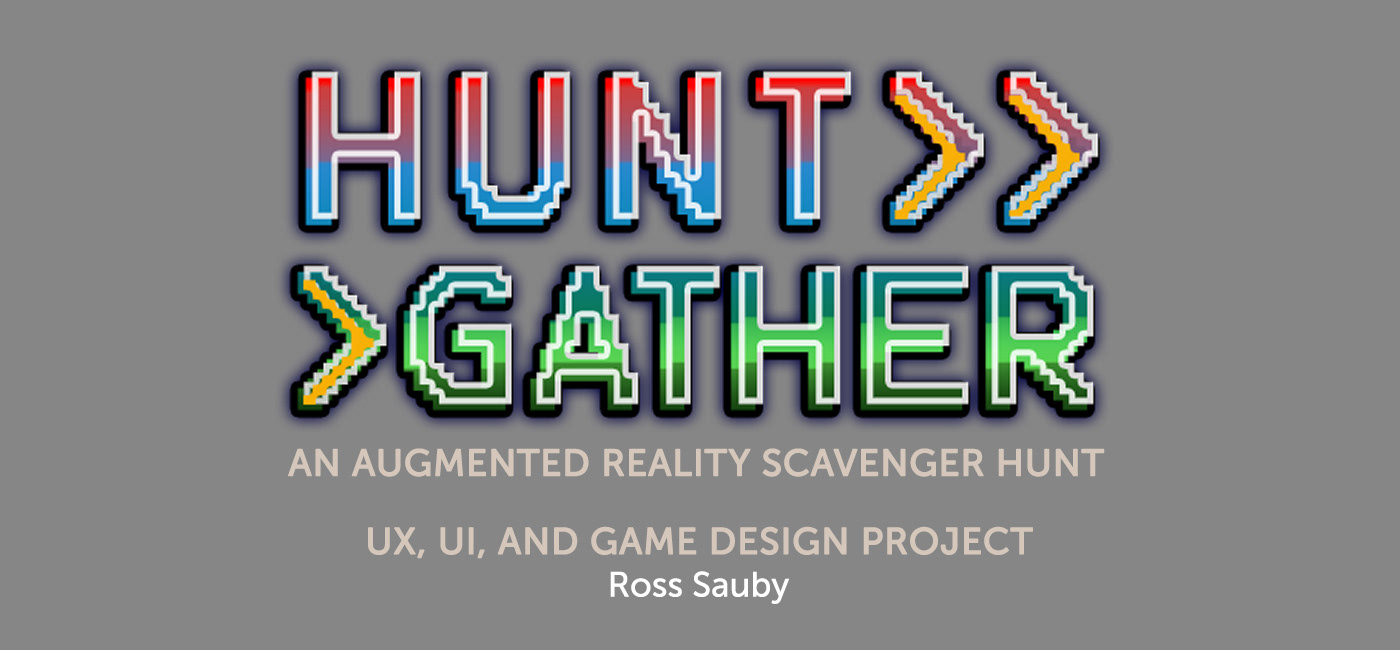 A Scavenger Hunt Experience
Scavenger hunts are an excellent mix of social engagement, puzzle solving, and physical activity. They are fun to play with friends, and make excellent team-building exercises. This project aims to create an ideal scavenger hunt application by focusing on best UX practices.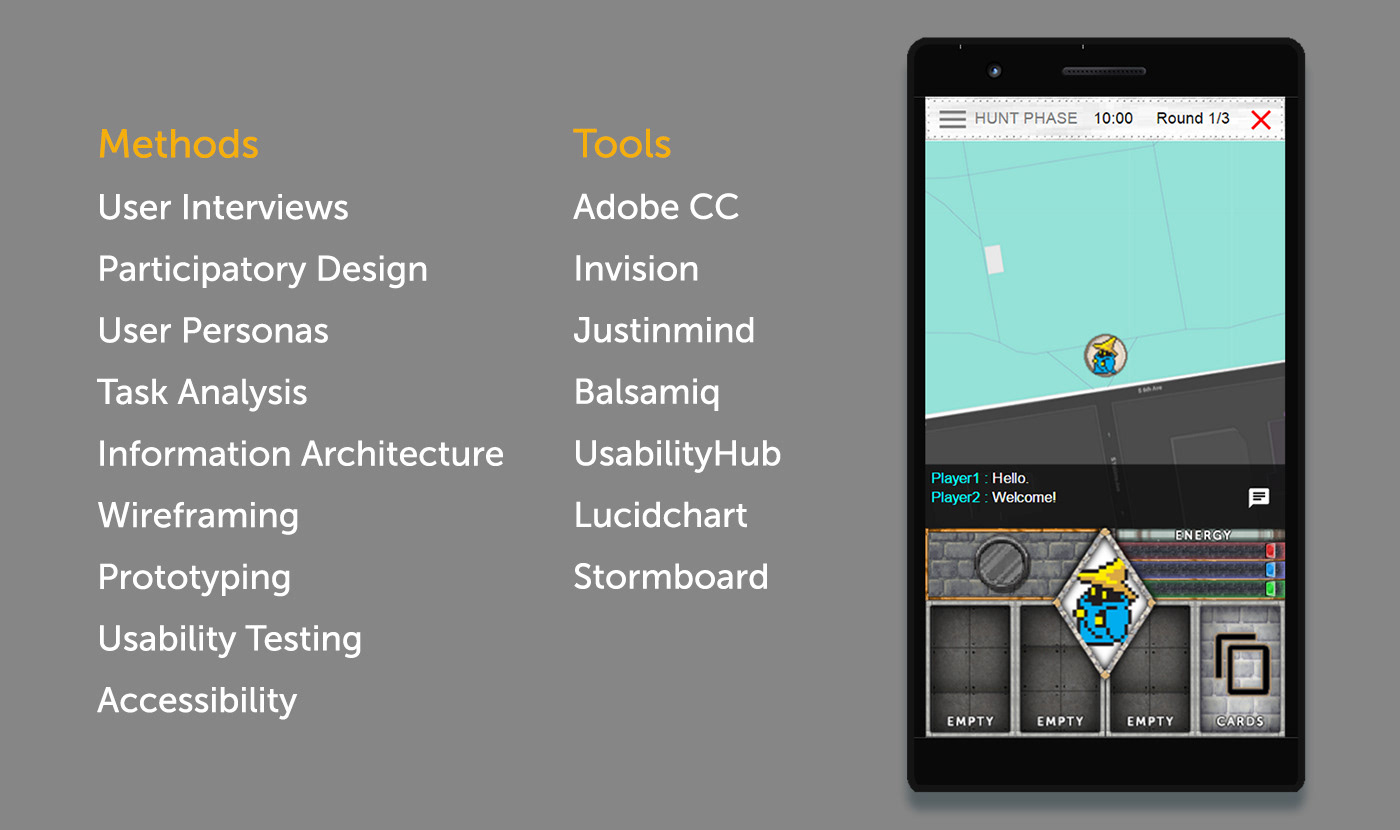 What Was Analyzed?
I analyzed both applications which focused on traditional scavenger hunt experiences (Actionbound, Huntz, etc.) as well as Augmented Reality (AR) focused applications such as Niantic's offerings (Pokemon GO and Ingress).
I studied each application's business strategy, strengths/weaknesses/opportunities/threats, usability issues, layout, and calls to action. I noted strategies my application could utilize to overcome observed pain points.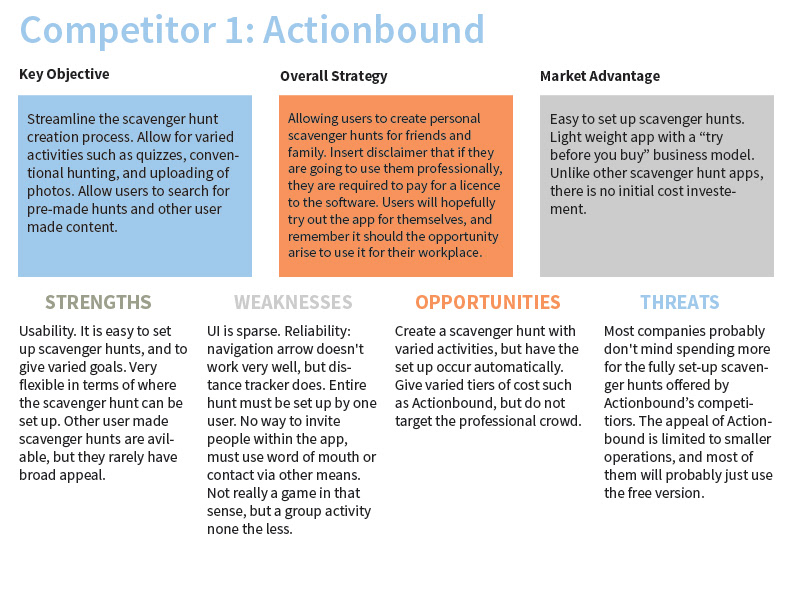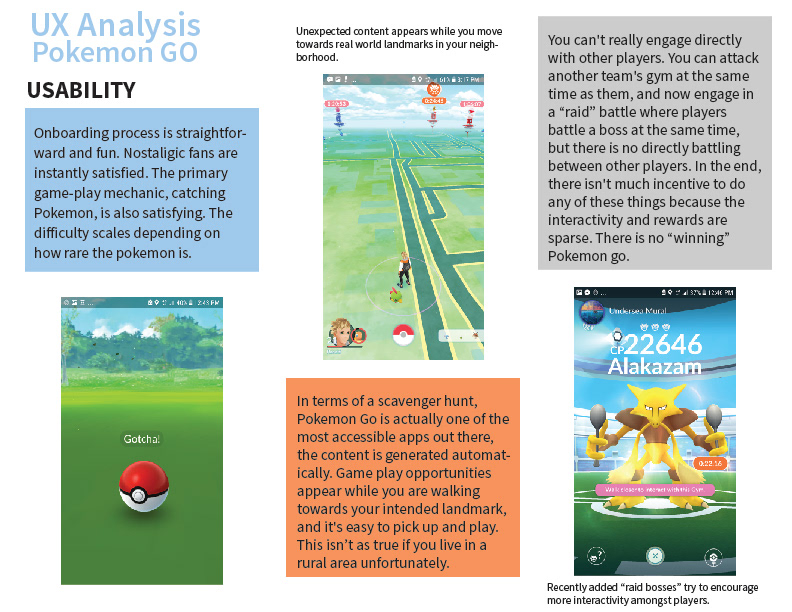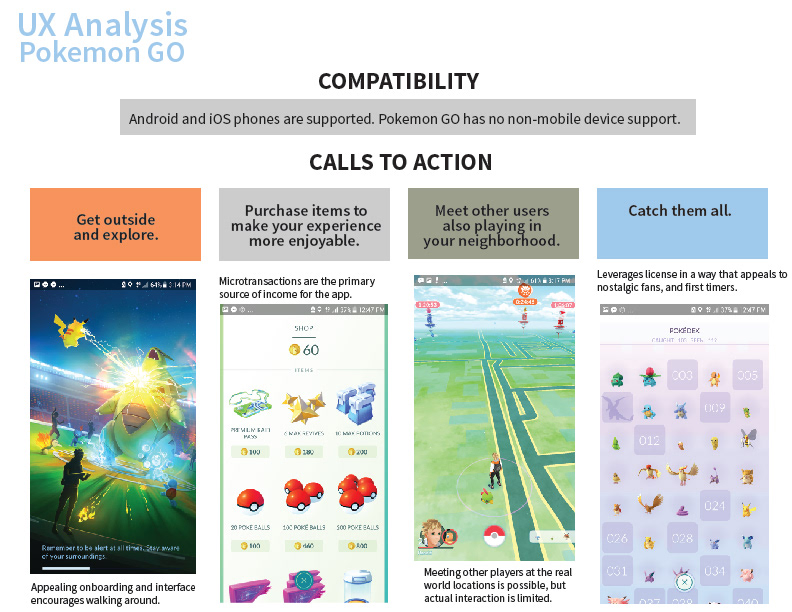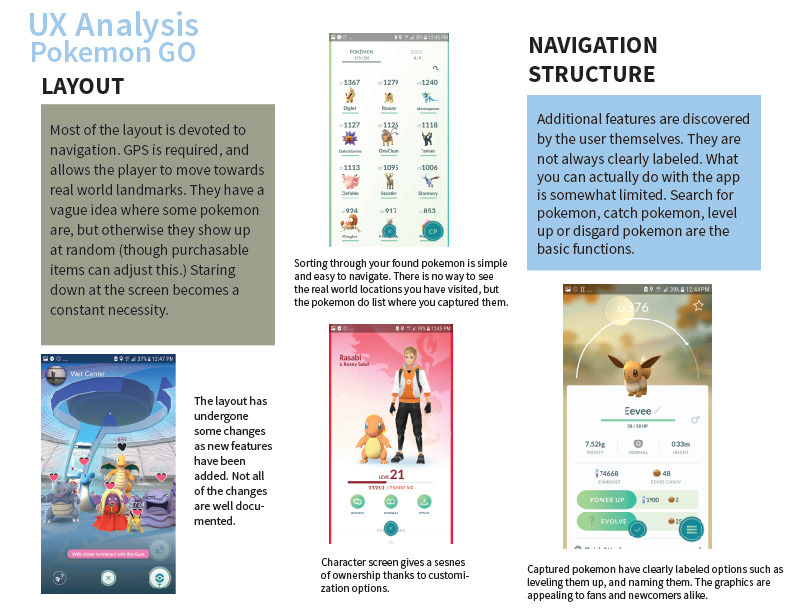 Conclusions
Competitor weaknesses for traditional scavenger hunts: 
●     Lengthy set-up times.
●     Reliance on real world landmarks. 
●     Can be expensive for certain, pre-made scavenger hunt experiences. 
Competitor weaknesses for AR scavenger hunts: 
●     Reliance on real world landmarks. 
●     Lack of meaningful interaction between players. 
●     Lack of sense of progression and accomplishment. 
User Interviews
I recruited and interviewed users with varied mobile app and gaming experiences. Interview questions were crafted to be open-ended; exploring habits, attitudes towards competitors, desired features, and what interactions they found enjoyable in both games and mobile apps. Follow up questions were non-leading, but direct enough to attain information relevant to the project's goals.
I focused not only on their digital experiences, but traditional games such as hide and seek, tag, and traditional scavenger hunts.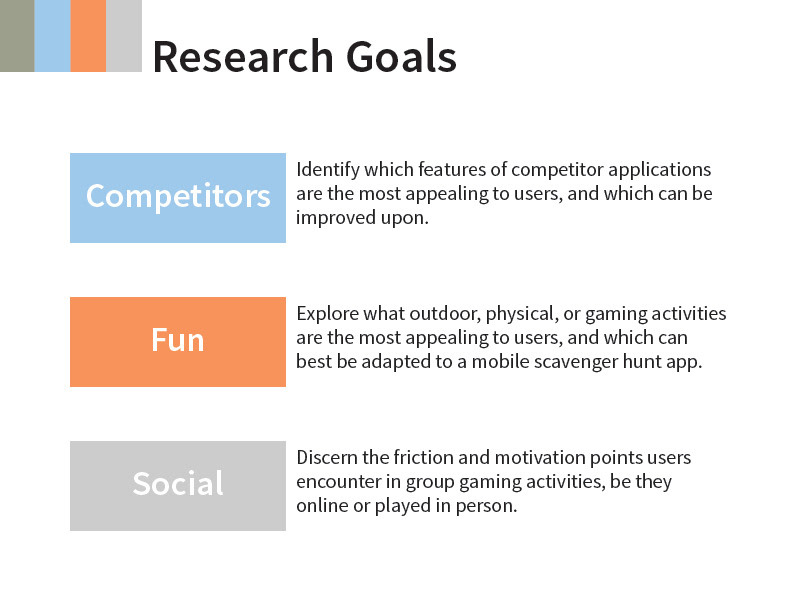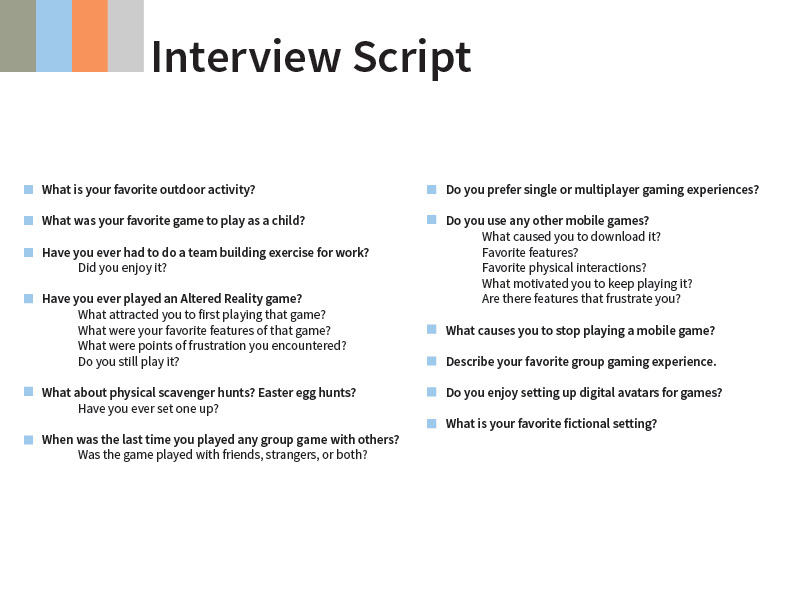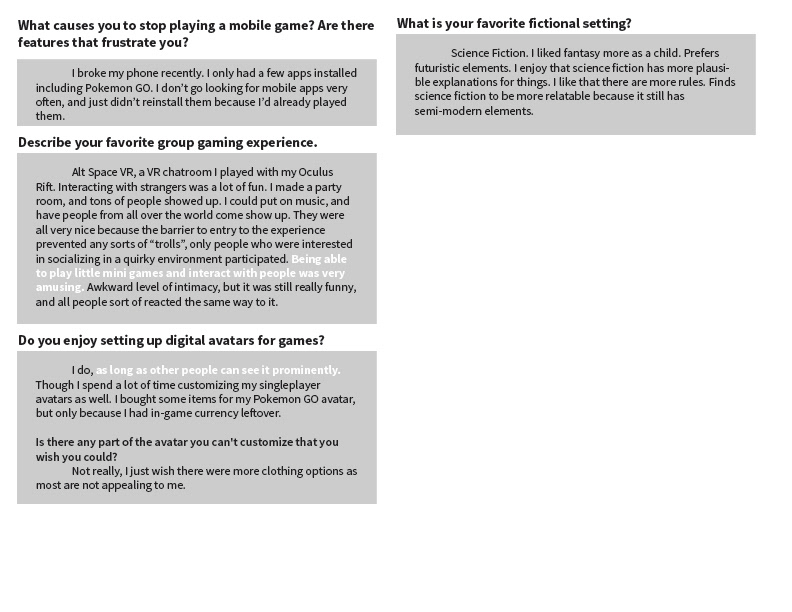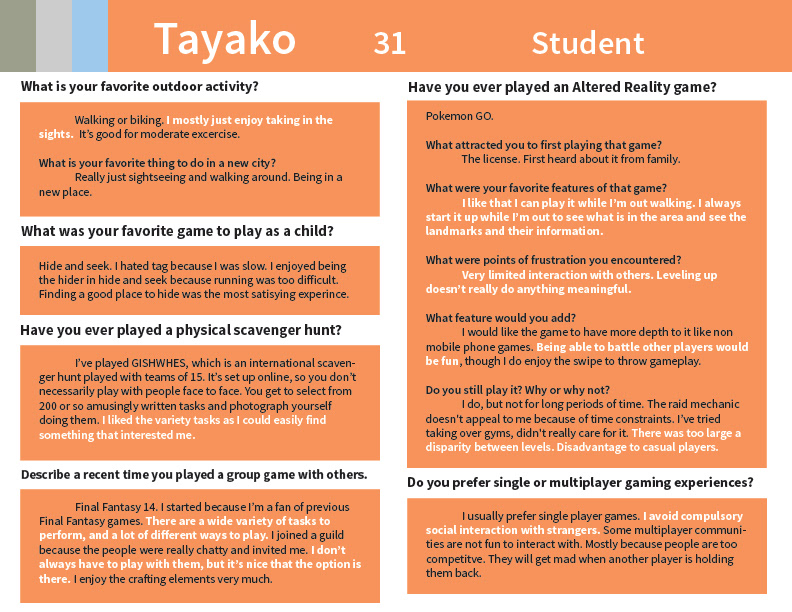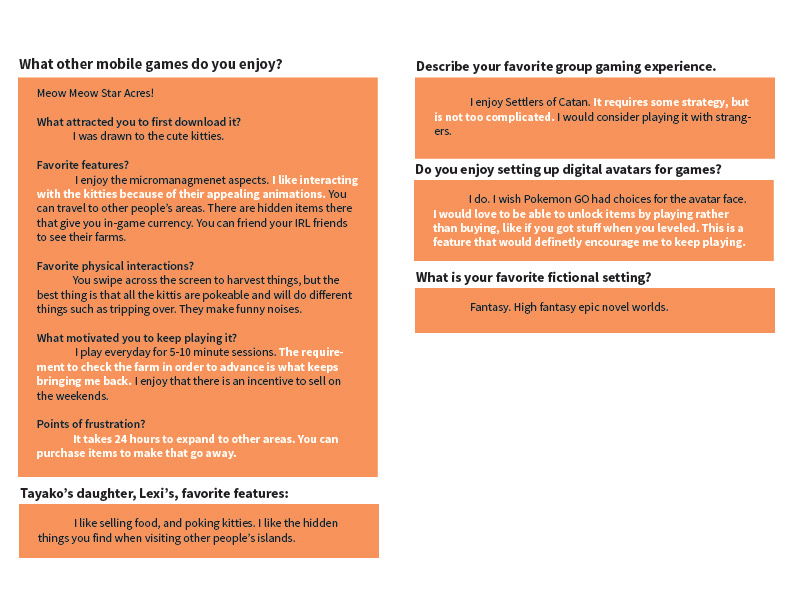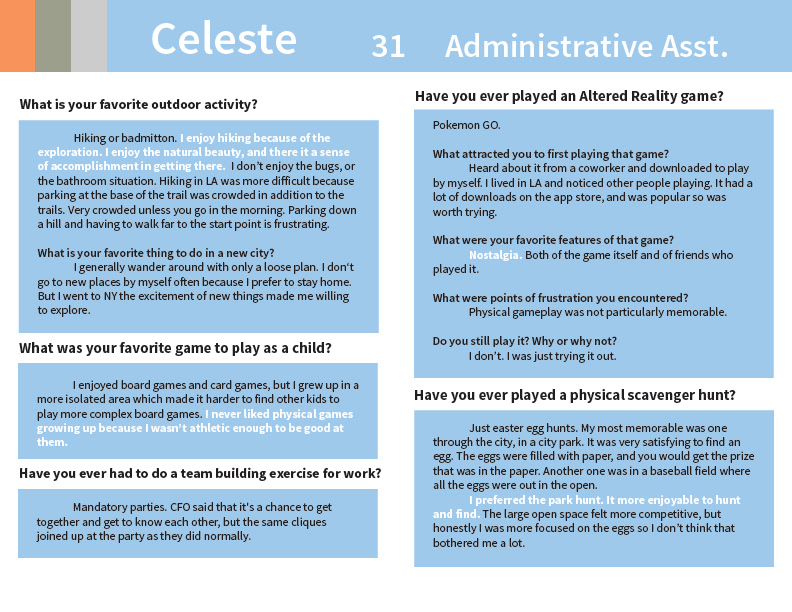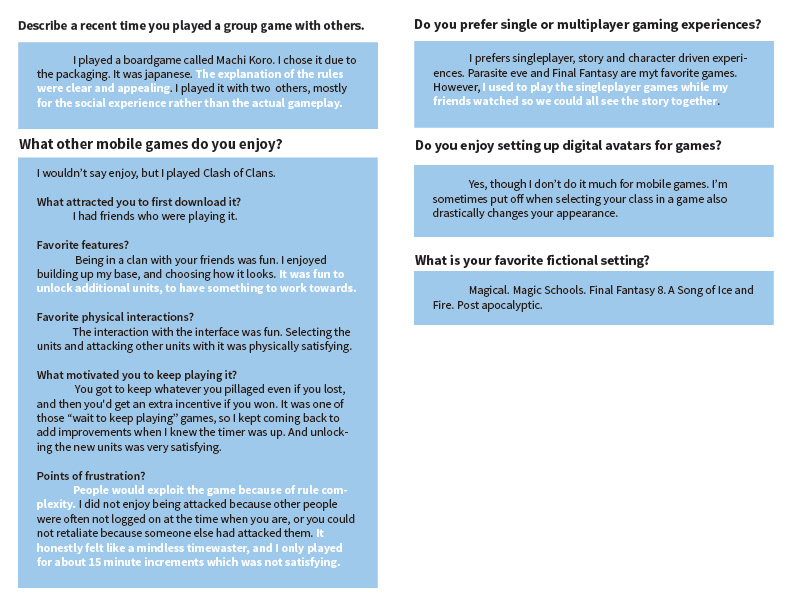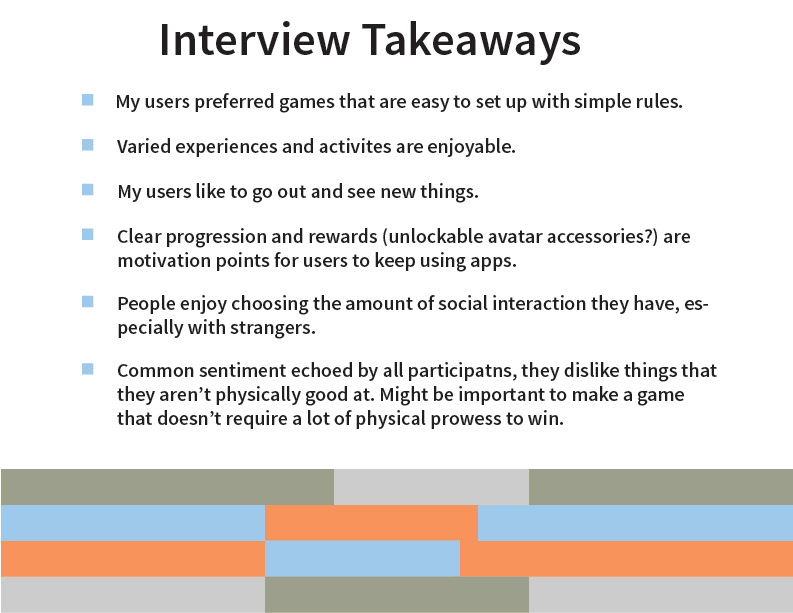 Data Analysis
User Interview results were organized visually using an affinity map. This allowed me find the following commonly expressed desired features:
●     Varied Interactions and gameplay mechanics. 
●     Simple to learn with optional complexity.
●     Meaningful interaction between players.
●     Choice between active or relaxed pacing.
●     Control over social interaction with strangers. 
●     Sense of progression.
●     Appealing art style, animations, and touch screen interactions.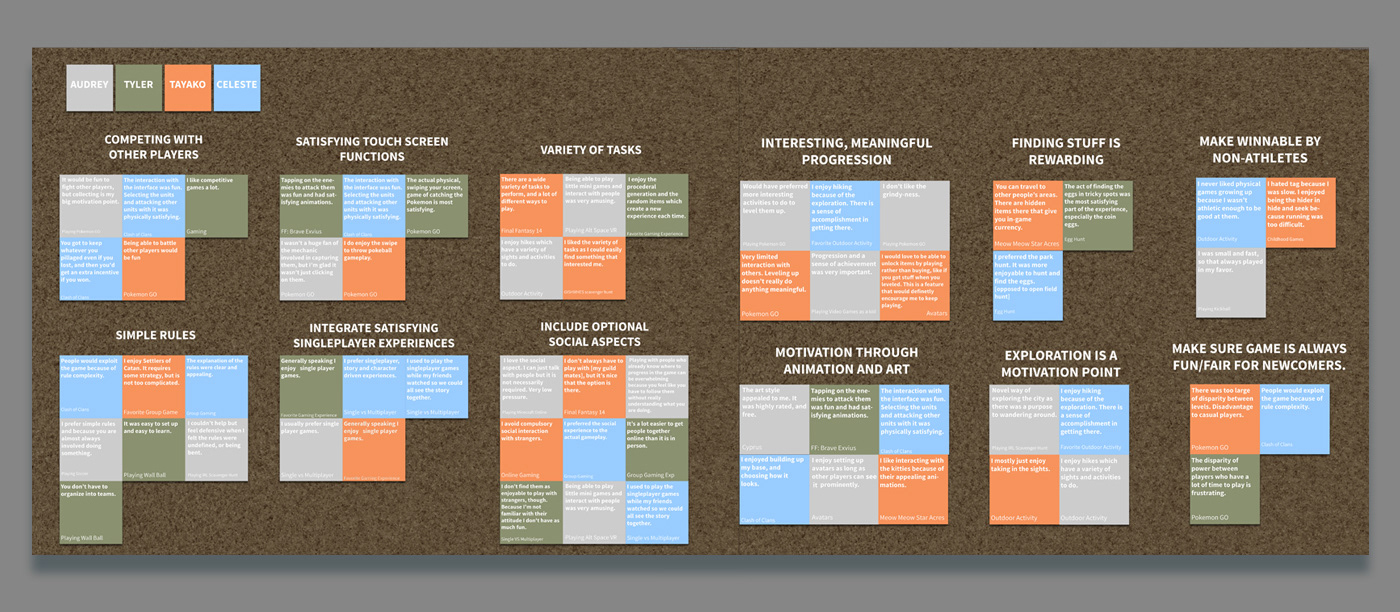 Participatory Design
Thanks to th

e informati

on gathered during user interviews and competitive analysis, I had a rough idea of what my experience would look like. I designed a field study, recruited participants.
At it's core, Hunt Gather would resemble an Easter egg hunt. Thanks to GPS and AR technologies, the activity could be played at any time and place. 
I introduced this framework to my participants, and then let them directly introduce and alter the mechanics of how this activity might unfold. This allowed me to focus on an MVP reflecting the interactions users would find most appealing. 

Personas were developed from user research. I created Chris, "the competitor", Sam, "the wanderer" and Naysa, "the easy-going friend". Each persona reflects the varying levels of physical activity and social interaction desired by users observed during interviews and participatory design exercise
.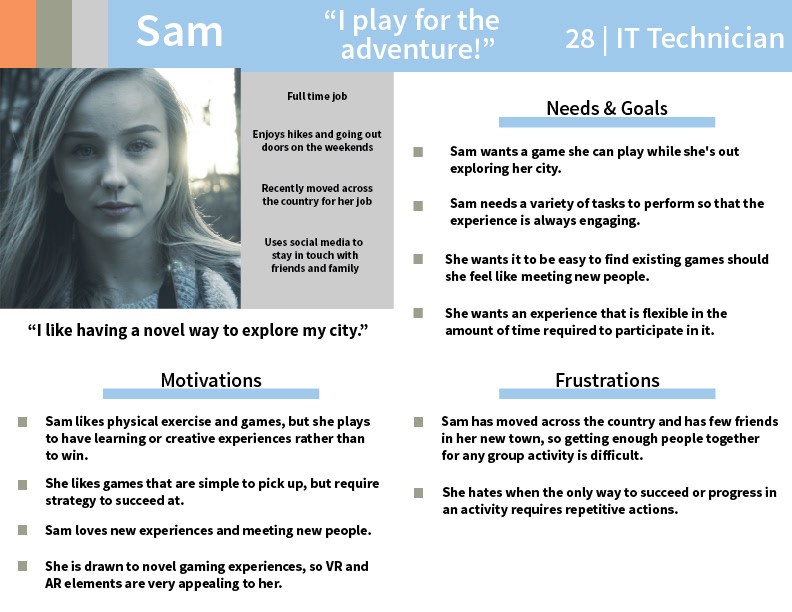 05
Information Architecture
User Journeys
Each persona would have a different approach to how they use the application. Chris desires to make a game near his home for his family, Sam is looking to join a public game while exploring her city, and Naysa is simple interested in easily participating in an activity with friends.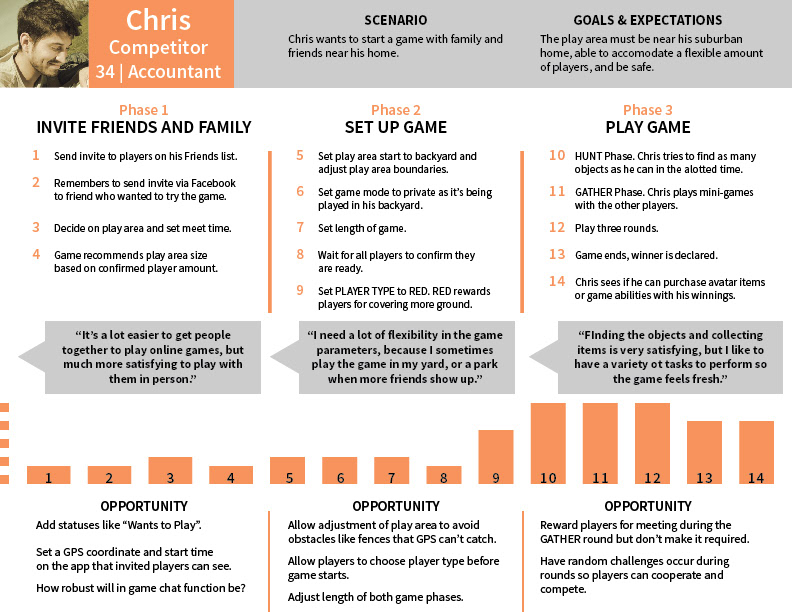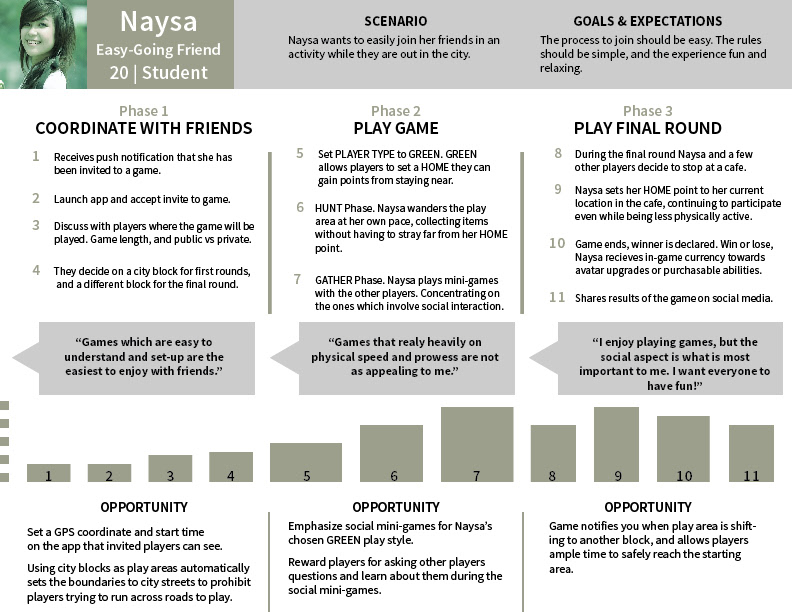 Task Flows
The user journeys were mapped out as task flows, allowing me to identify what screens and functions would eventually need to be created for my application.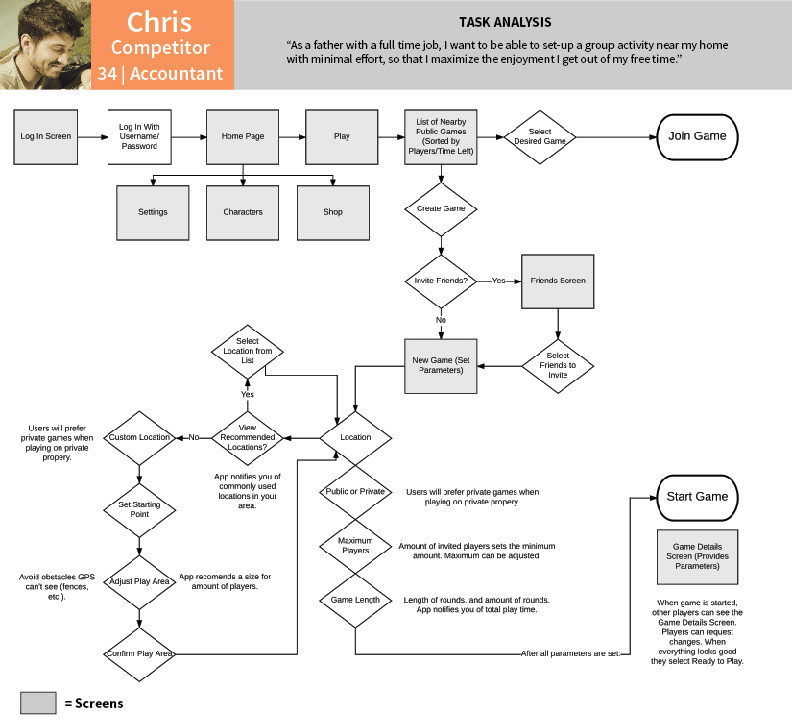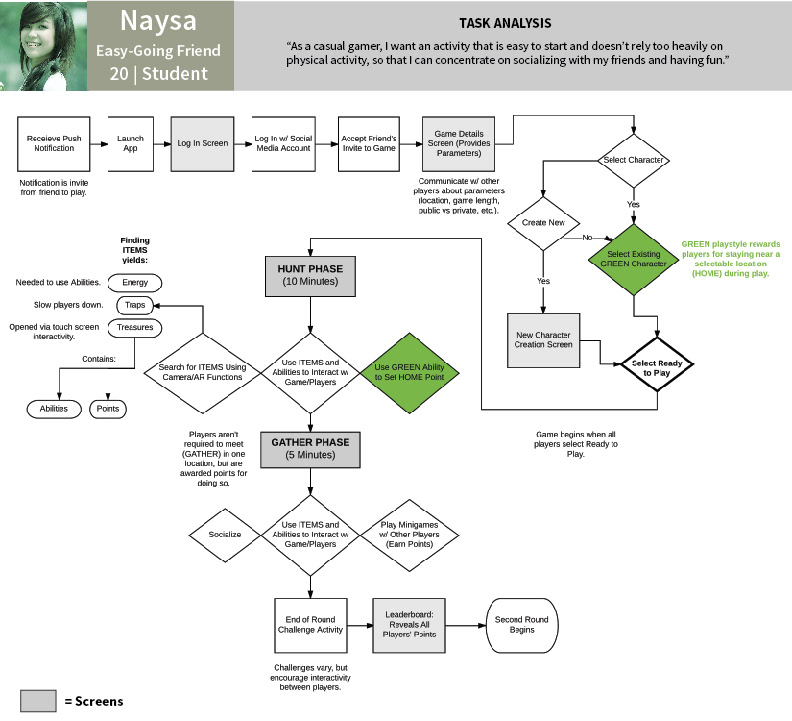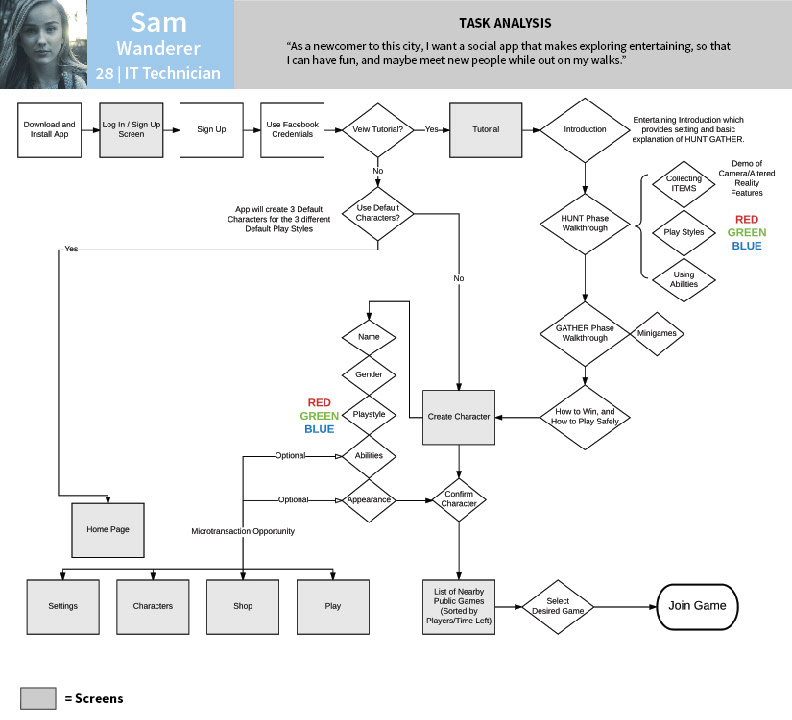 Application Structure
A unified application structure was created by combining the user task flows and then identifying and filling in feature gaps.
A primary objective was to smoothly integrate revenue generation into the user experience.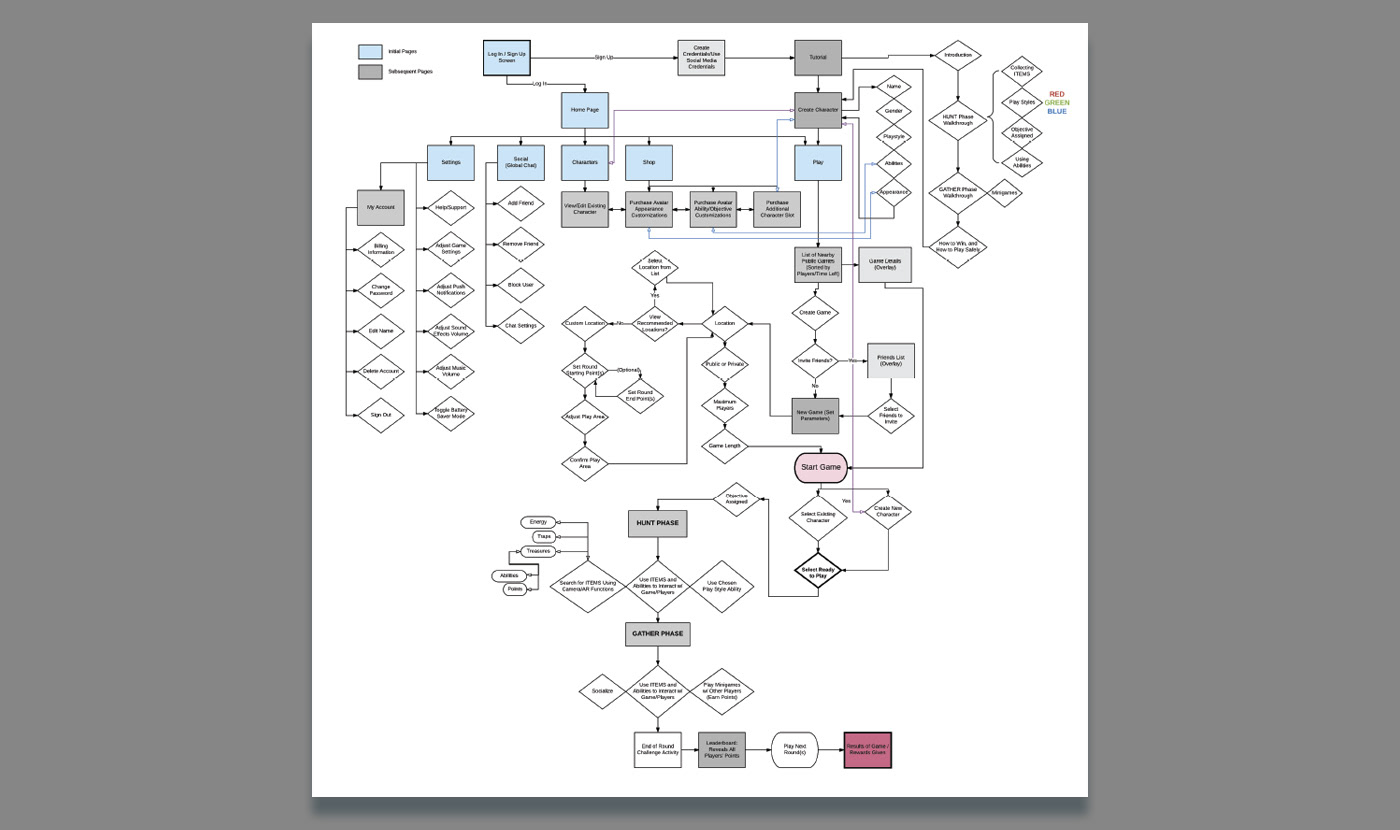 Pen and Paper Sketches
I created dozens of sketches and thumbnails with the goal of generating as many ideas as possible.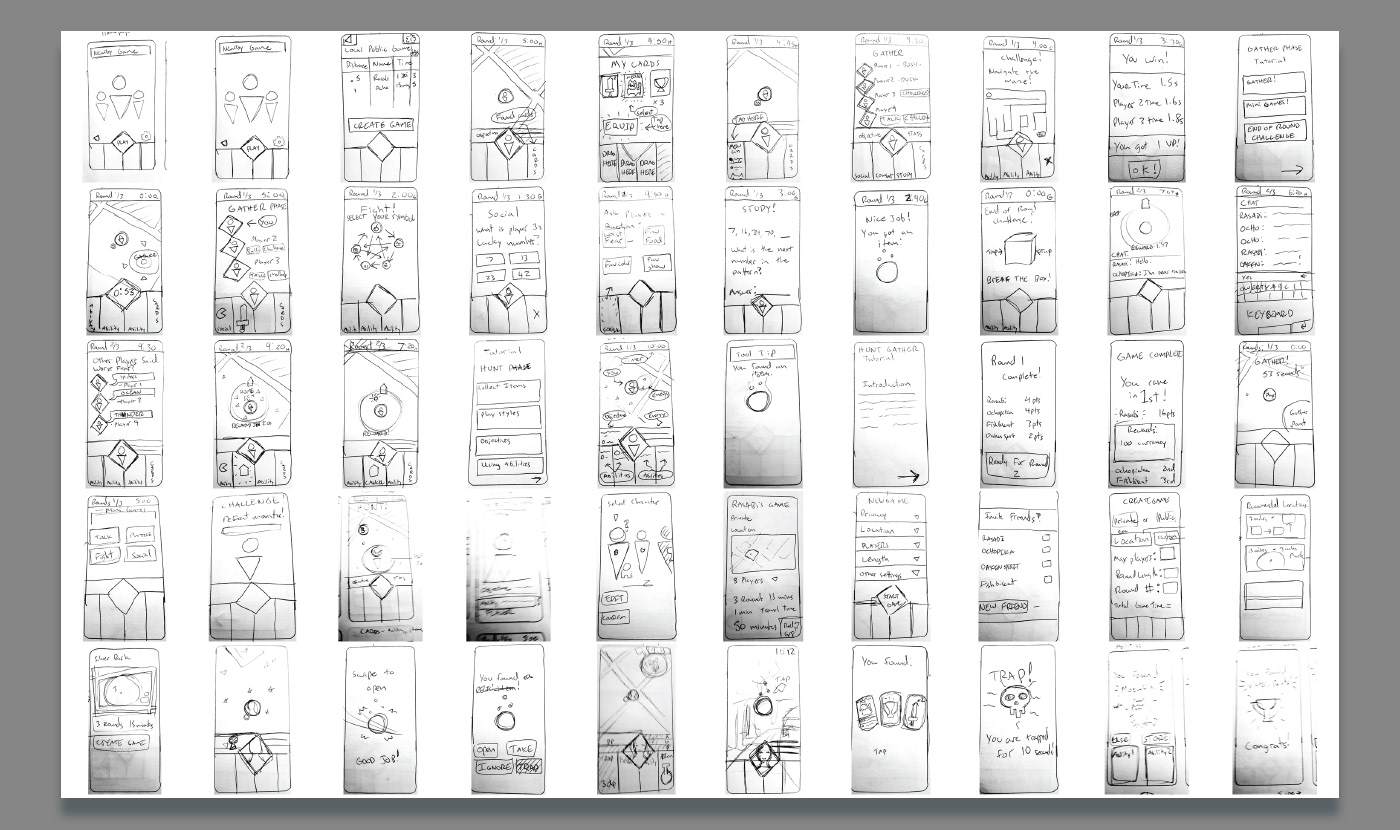 Low-Fidelity Prototypes
I generated low-fidelity prototypes from previously establish user persona specific task flows, designing subsequent iterations based off early user feedback. Prototypes were initially created using Balsamiq or hand drawn with Adobe Photoshop.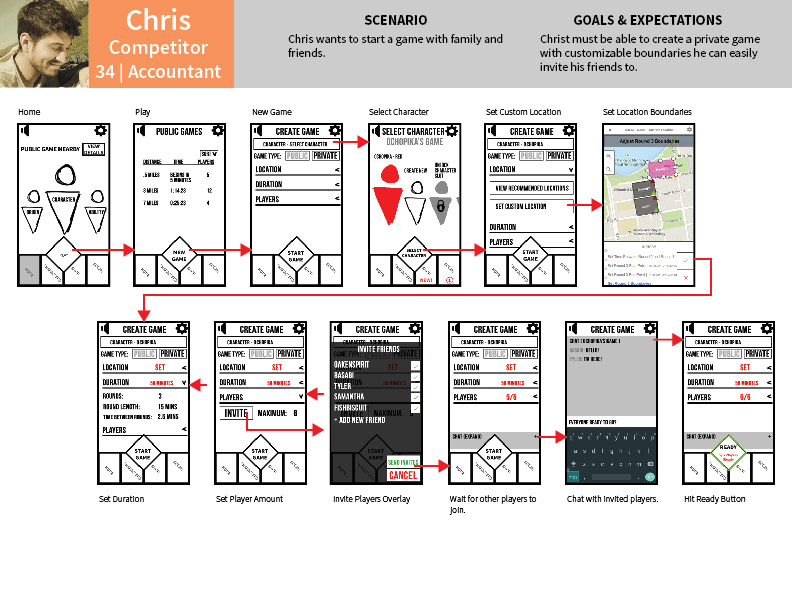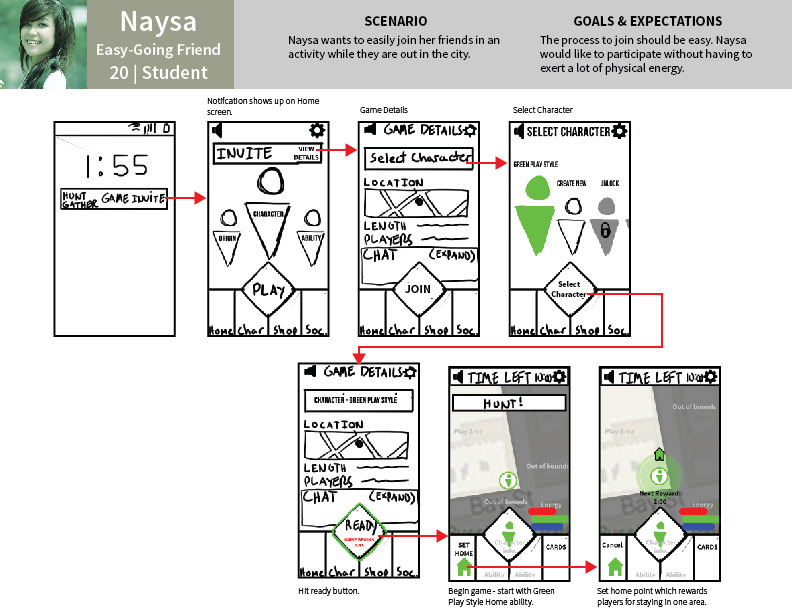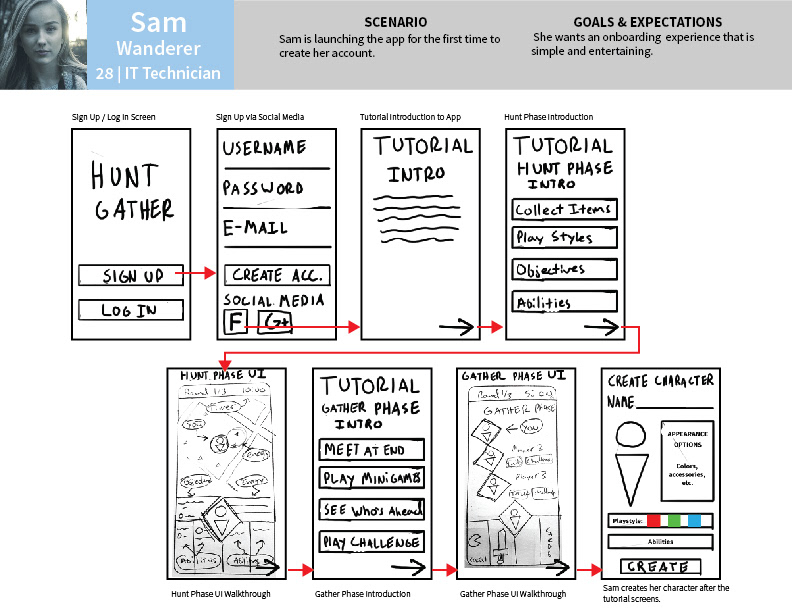 Mid-Fidelity Prototypes
Designs were iterated into a shareable, functional prototype. Initially I crated the prototype in InVision, but realized that testing would be greatly assisted by greater animation and interactivity simulation. I settled on Justinmind. The goal at this stage was to create testable task flows and screens, so relevant feedback could be collected in subsequent usability te
sts.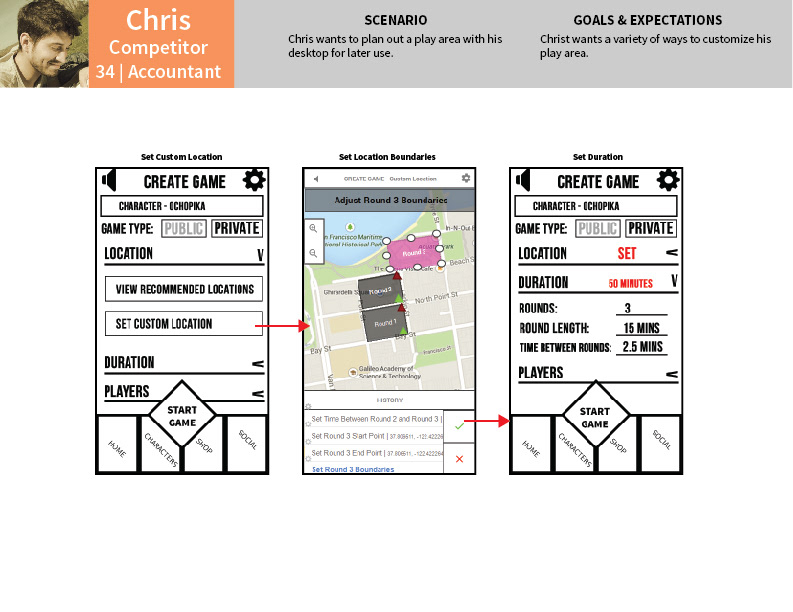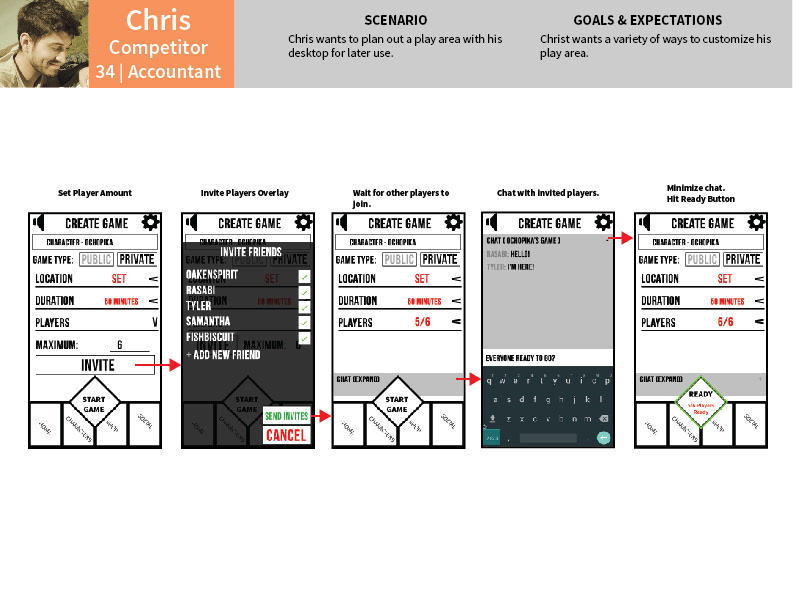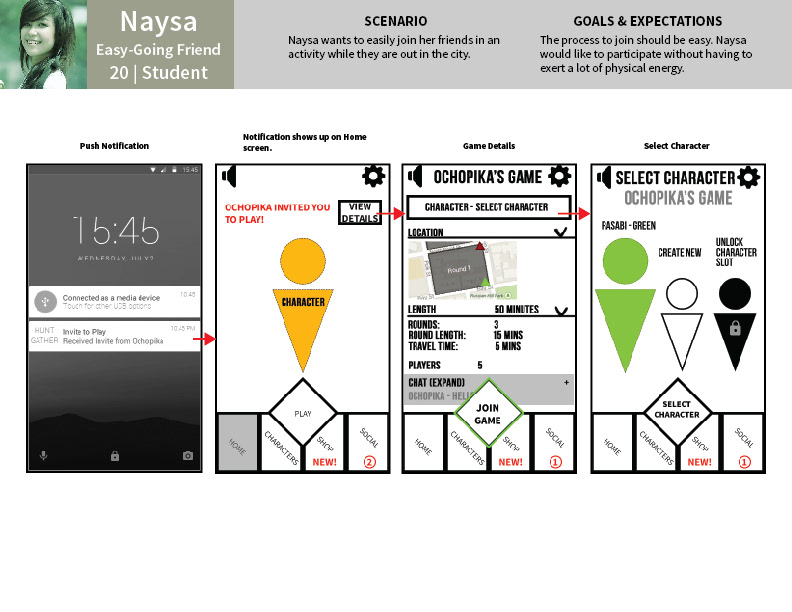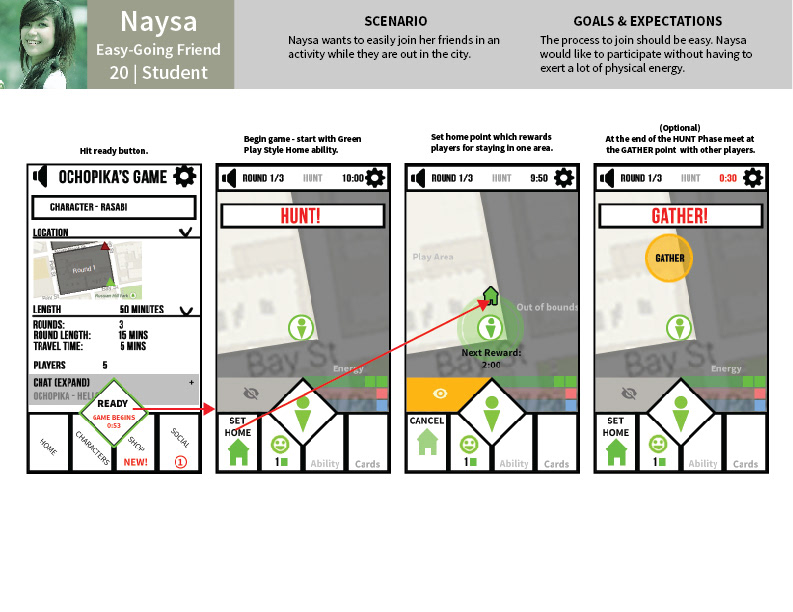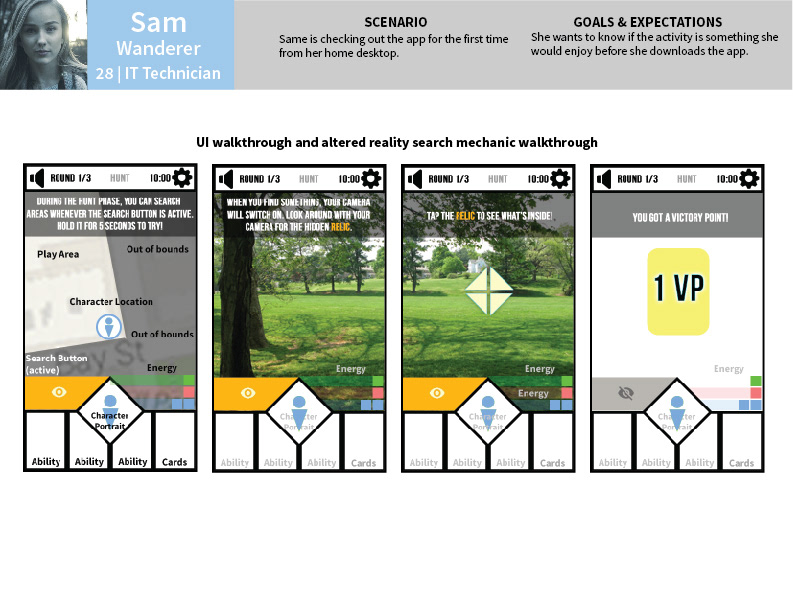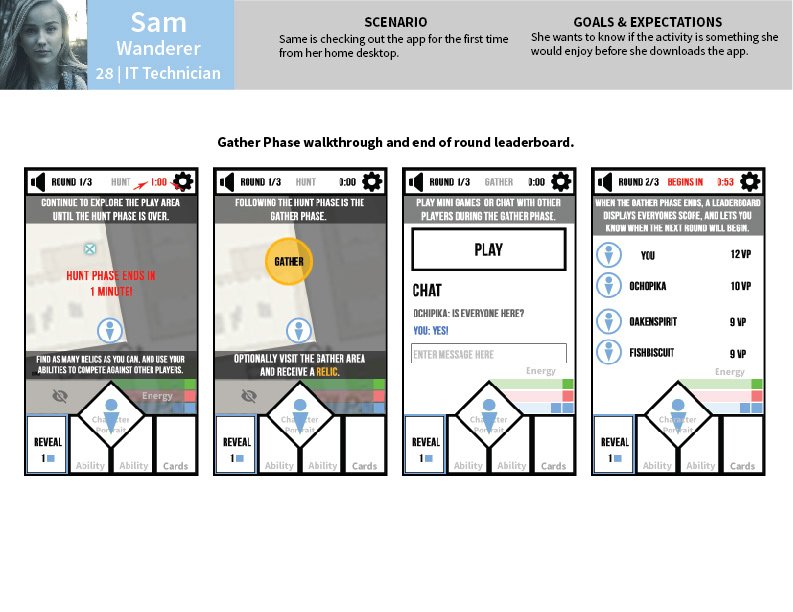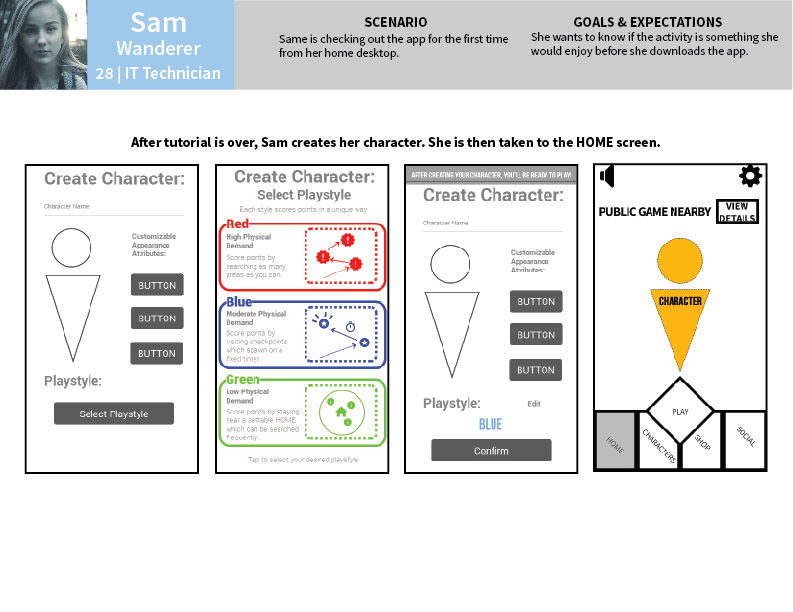 Preparation
I prioritized a number of tasks vital to the application's usability including following the onboarding sequence, creating a character avatar, navigating the home screen, and creating and starting a custom game.
Upon completing a script, I began recruiting and scheduling my tests. Users were screened based on mobile application and gaming experience, though I was sure to include users with both heavy and casual experience. 
I conducted 6 usability tests (5 in-person and 1 remote). Sessions were conducted on a mobile phone with the Justinmind prototype, screen and audio recording software, and external recording software to later analyze facial expressions, body language, and finger movement. 
Observations and errors were recorded and organized on a rainbow spreadsheet. Errors were rated via the Nielsen severity scale in order to determine how to prioritize which issues to address
first.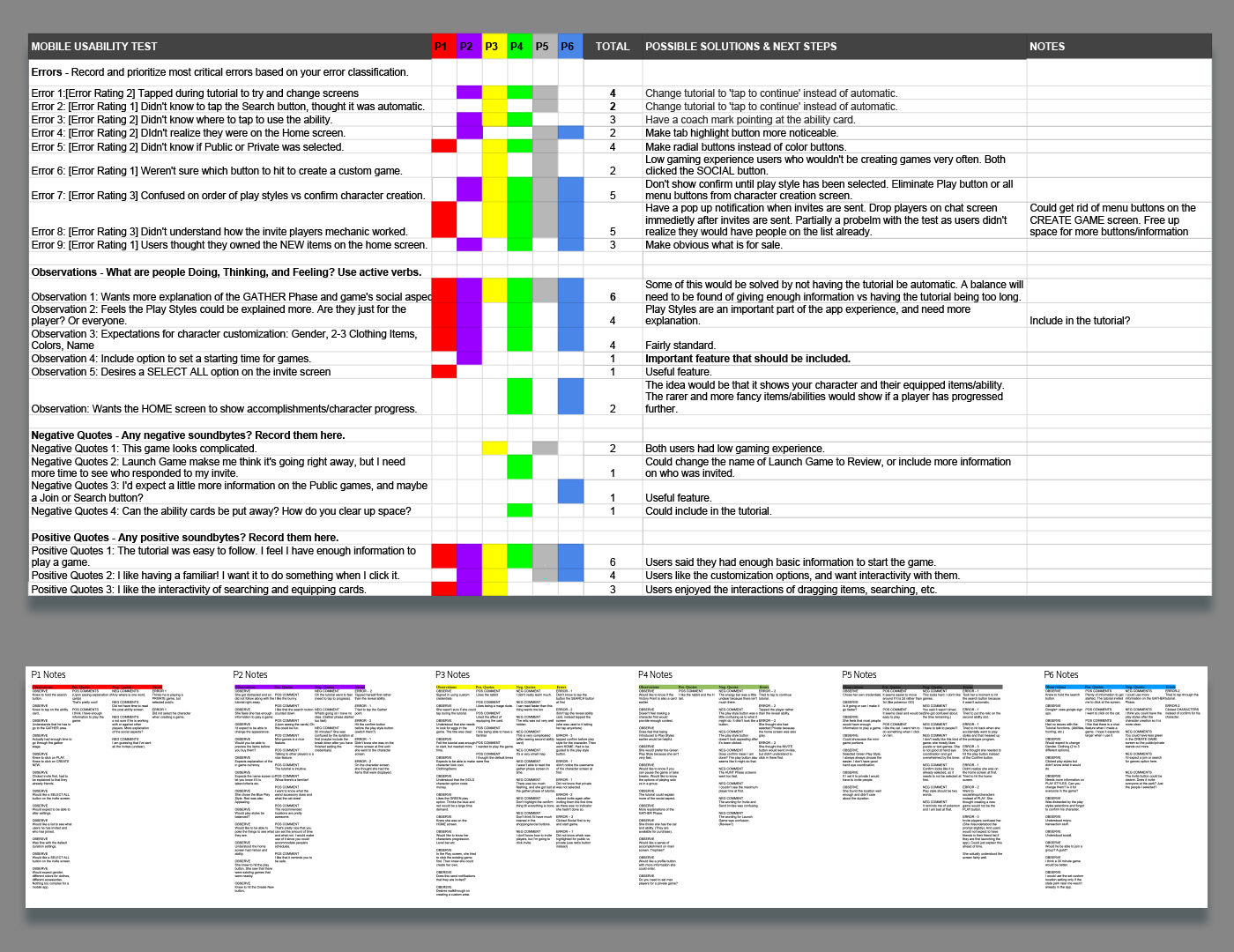 Usability Test Conclusion
Users committed various errors during the game and character creation screens as a result of a cluttered layout. Future iterations would use a drawer menu instead of bottom navigation to help clear screen space.
All users felt they had enough information from the tutorial to begin their first game, but they universally desired to control the pacing of the tutorial instead of the initial automated experience.
Most importantly, all users expressed further interest in the scavenger hunt experience upon completing the tutorial, and enjoyed the interactions presented.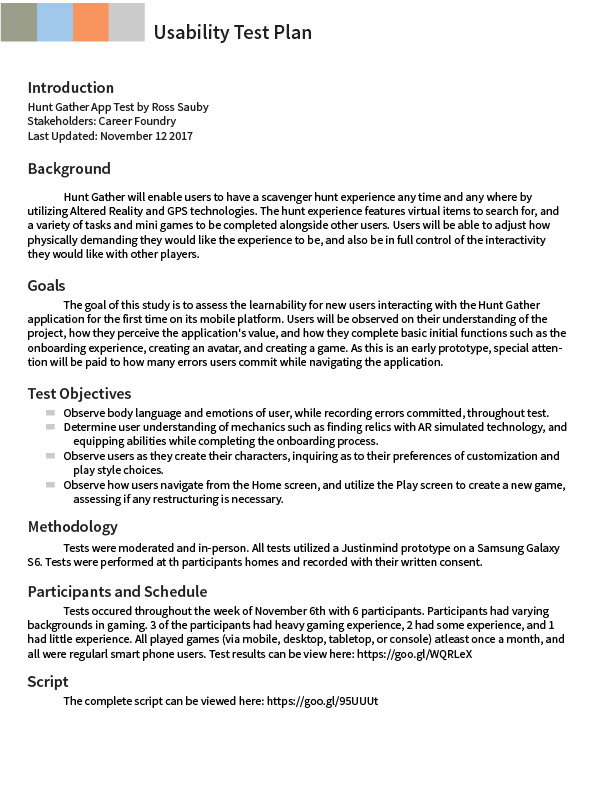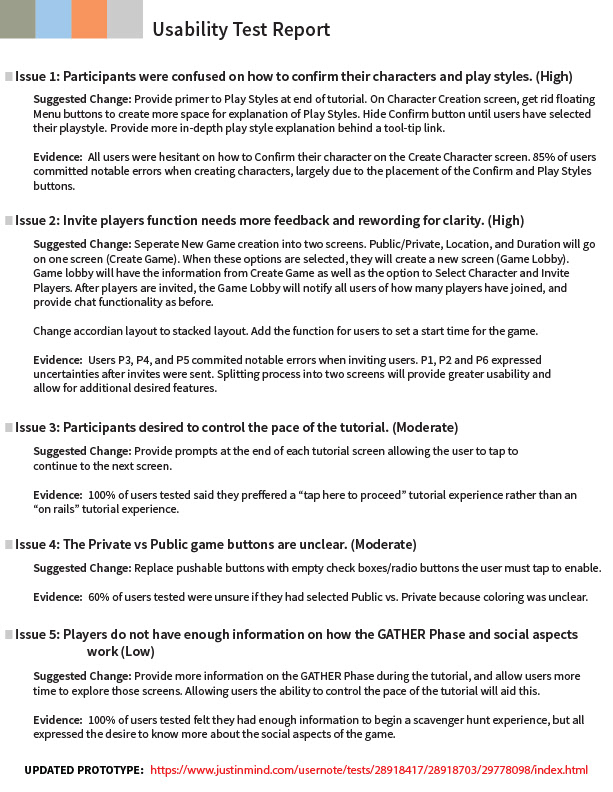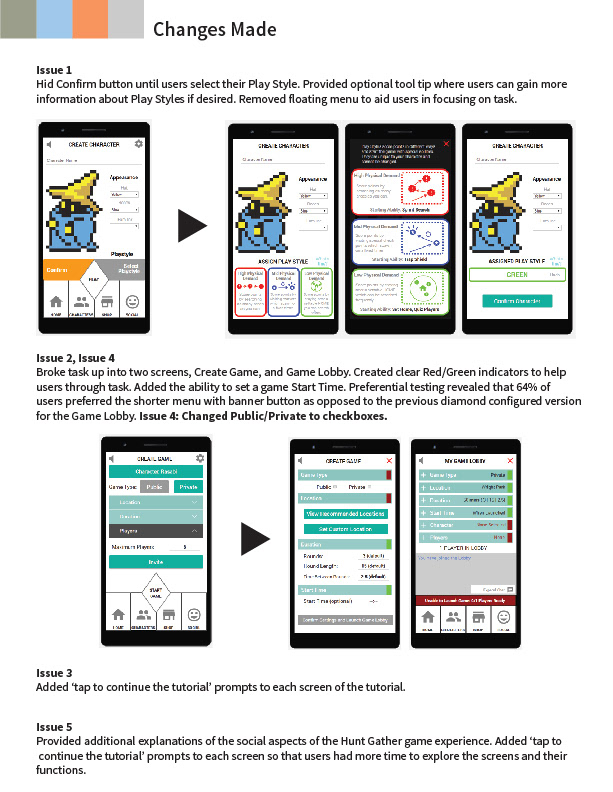 Following the usability tests were several cycles of iteration. Preference tests and peer reviews created a feedback loop which allowed for rapid testing and redesign. As usability changes were finalized, work began in earnest on the user interface. The peer reviewed feedback loop continued as color and art asset choices were made.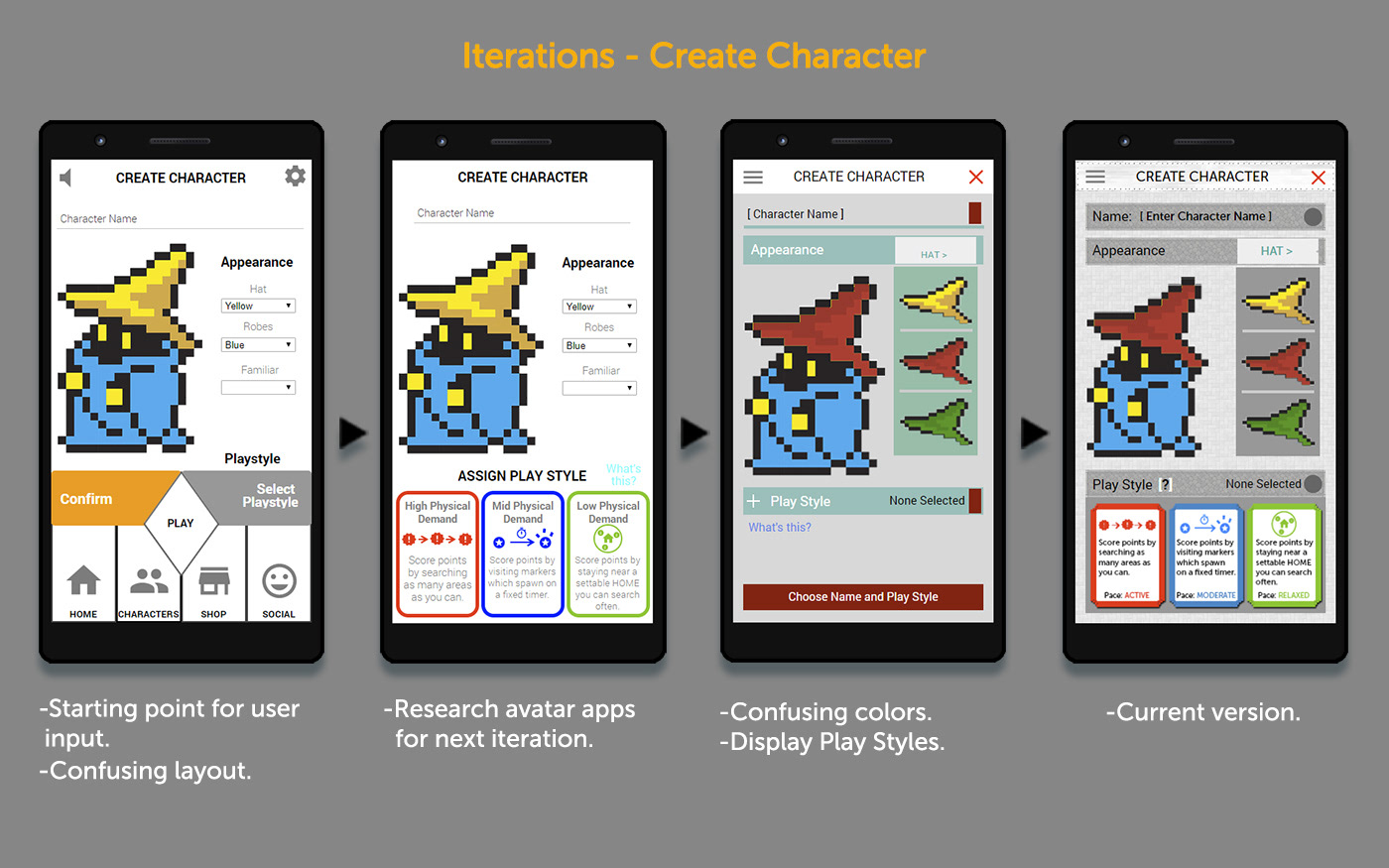 Early usability tests provided vital feedback on what users would like to see on an avatar creation screen. After performing additional competitive research I was able to determine a more logical layout that was flexible enough to accommodate many different customization options. Usability test feedback and preference tests also resulted in substantial changes to the layout.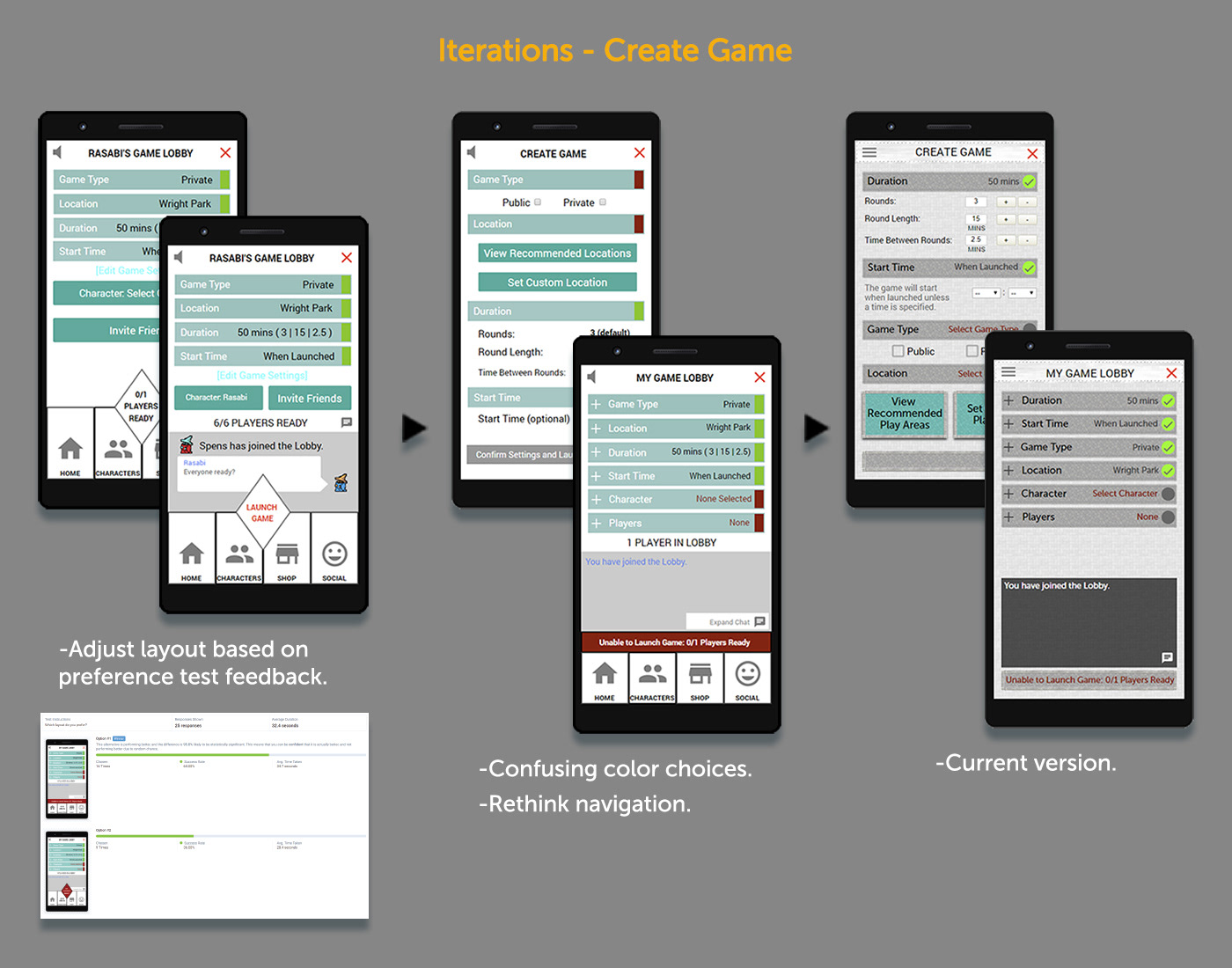 I explored a number of different layouts for the create game screen. Preference tests helped me deploy a drawer-menu system that left ample space on each screen for other functionalities. I also split the screen into a two-screen task flow which users found much more logical.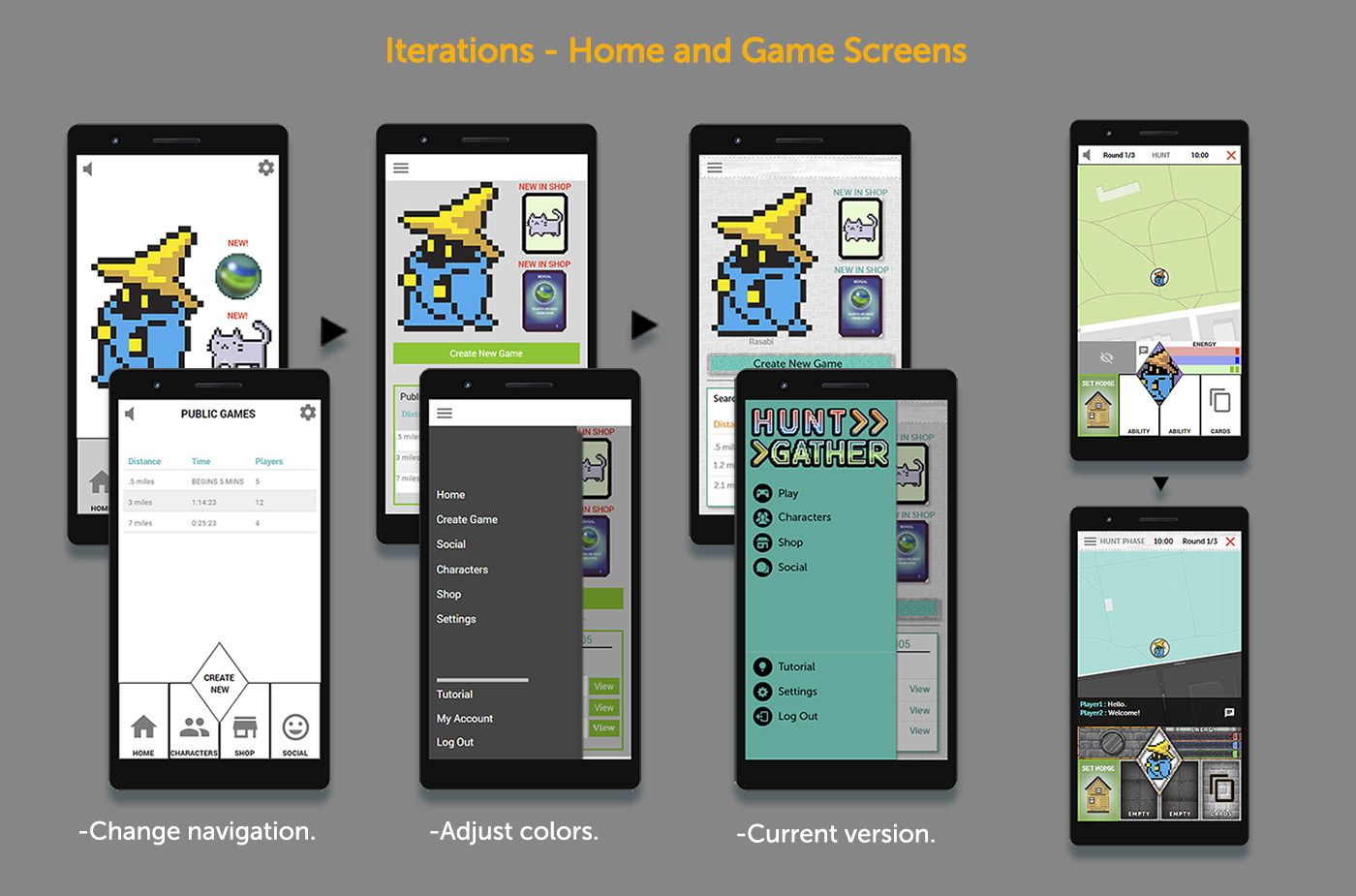 My first iteration separated the Home and Play screens, but combining them allowed for users to more easily jump into the play experience each time they open the app. The redesigned drawer-menu navigation cleared up enough space to make this possible.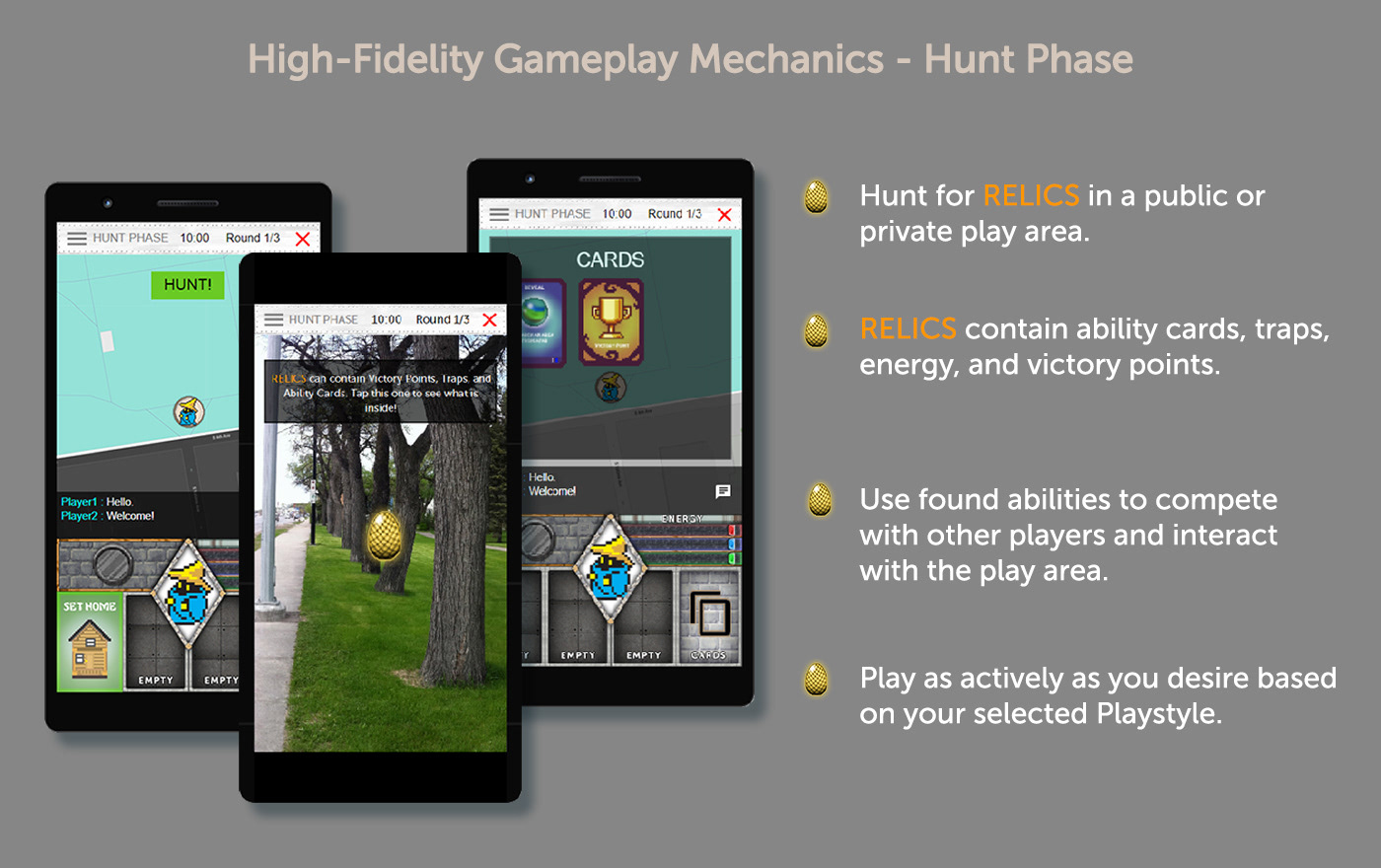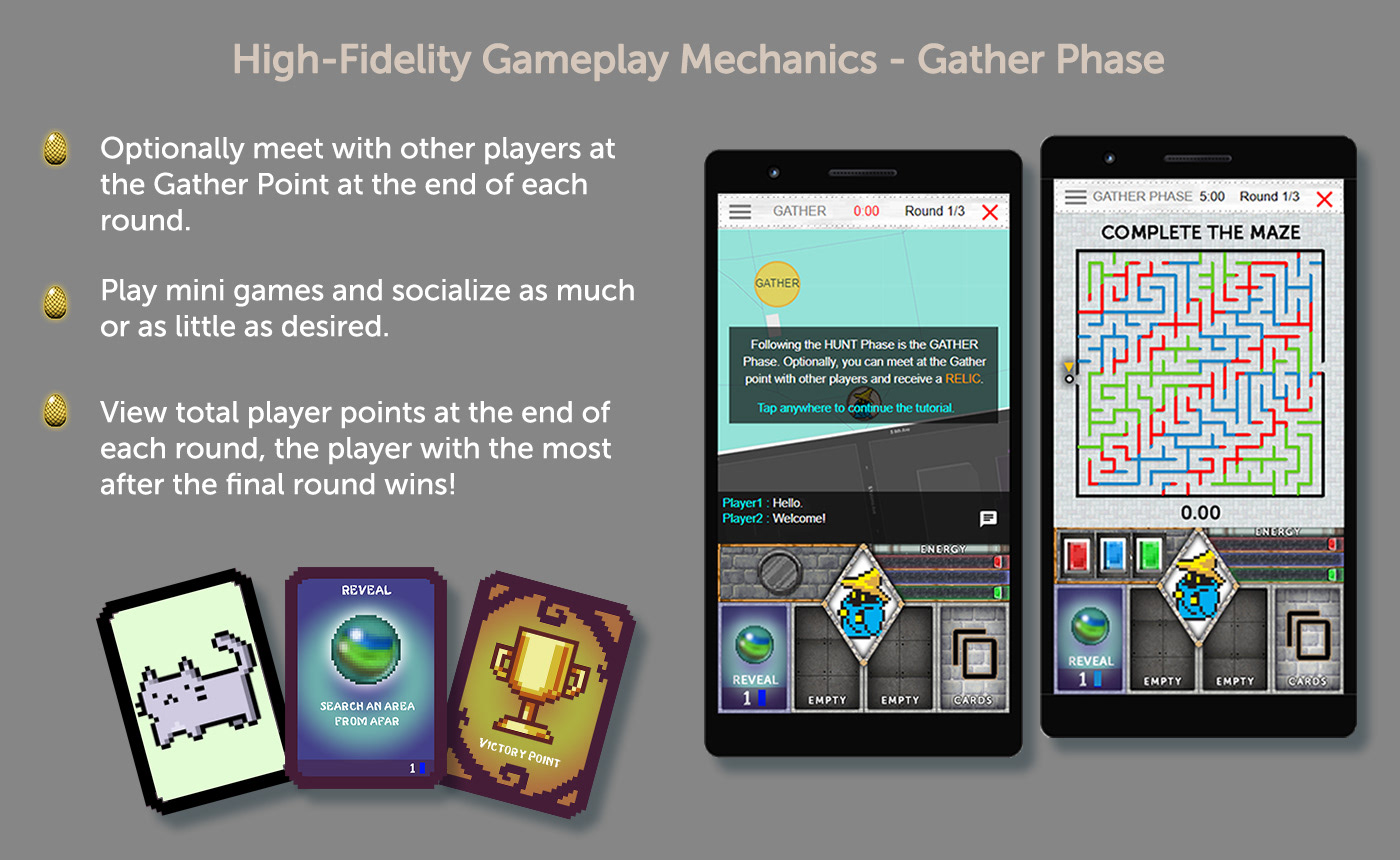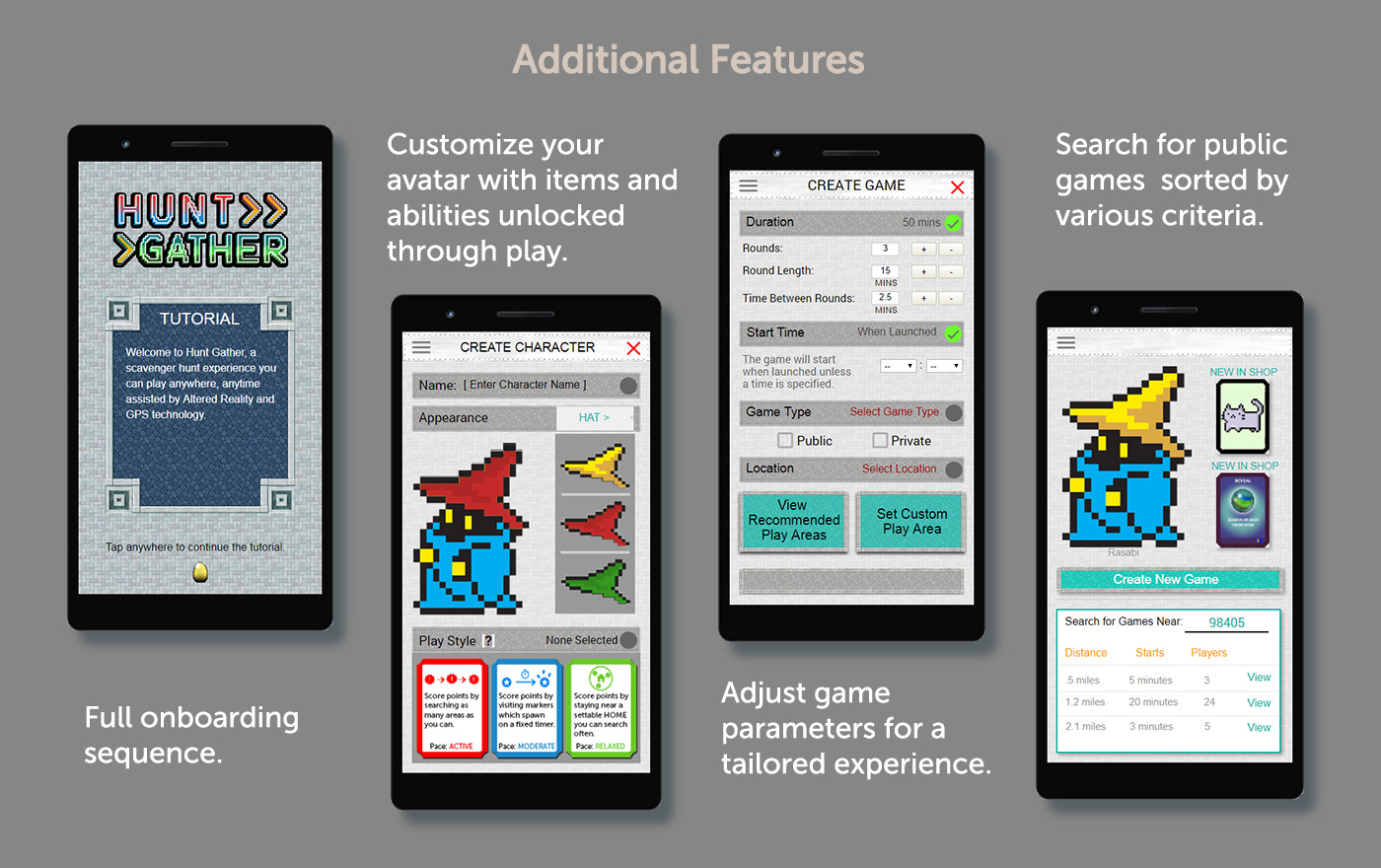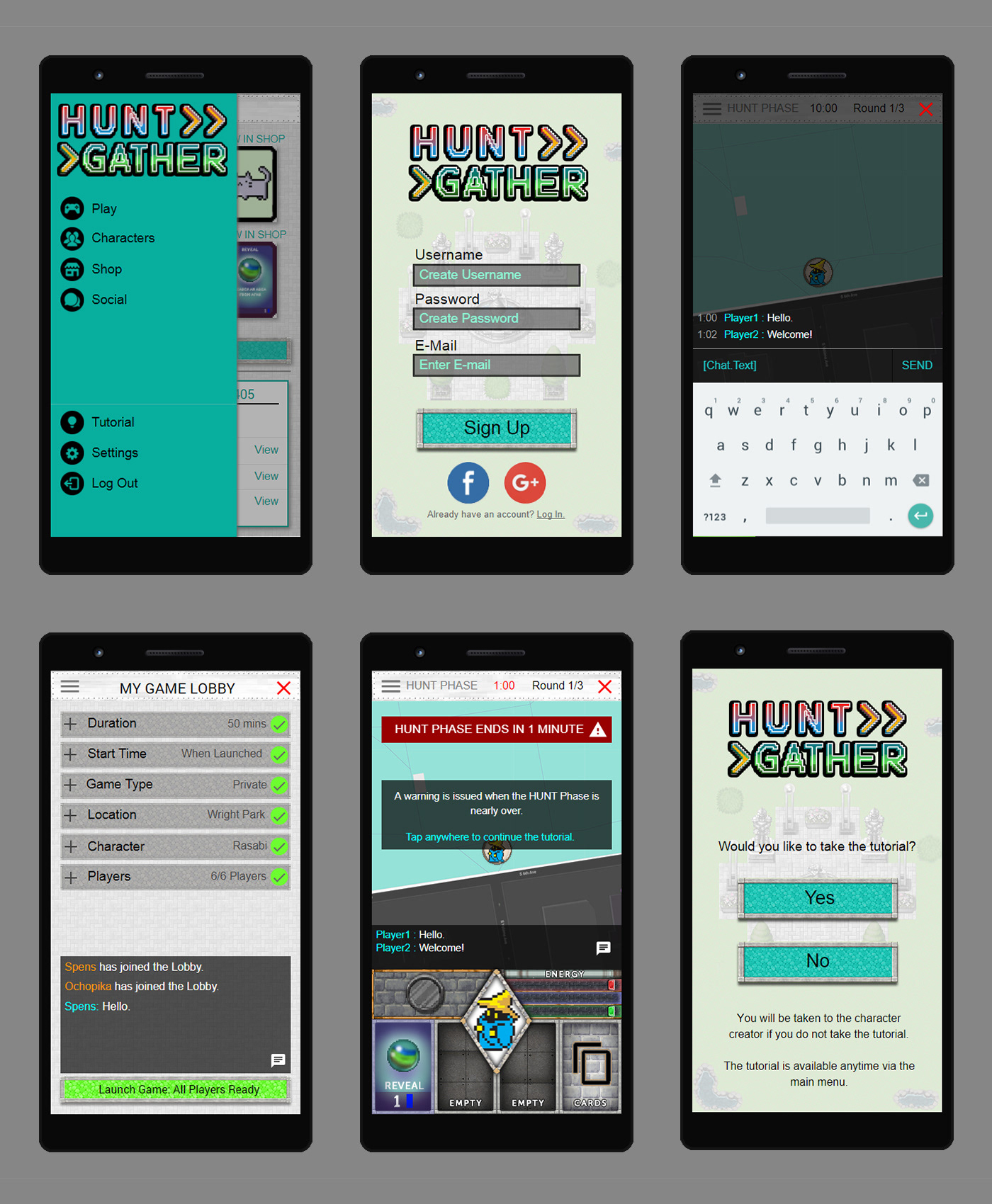 The challenge was to create a scavenger hunt experience which would be satisfying to users with a variety of needs and preferences. 
How I Accomplished this Goal:
●   GPS and Augemented Reality elements which would allow users to play in any place they choose, not just where real life landmarks resided. 
●   Different Play Styles, which would allow users of all physical abilities to participate on equal competitive footing.
●  Robust social features, such as public games, which allow users to choose their level of engagement with other players. 
●  Scalable gameplay features that allow for truly unique experiences each game.
●  Rewards which provide a clear sense of progression and achievement for regularly participating.
The current prototype demonstrable features are: Sign Up, Tutorial, Character Creation, and New Game Creation. The next step would be to implement the Shop, Social, and Characters screens. Each of these features would require their own round of iterative design cycles.
Thank you for taking a look at my project! You can videos and the full project documentation below
!