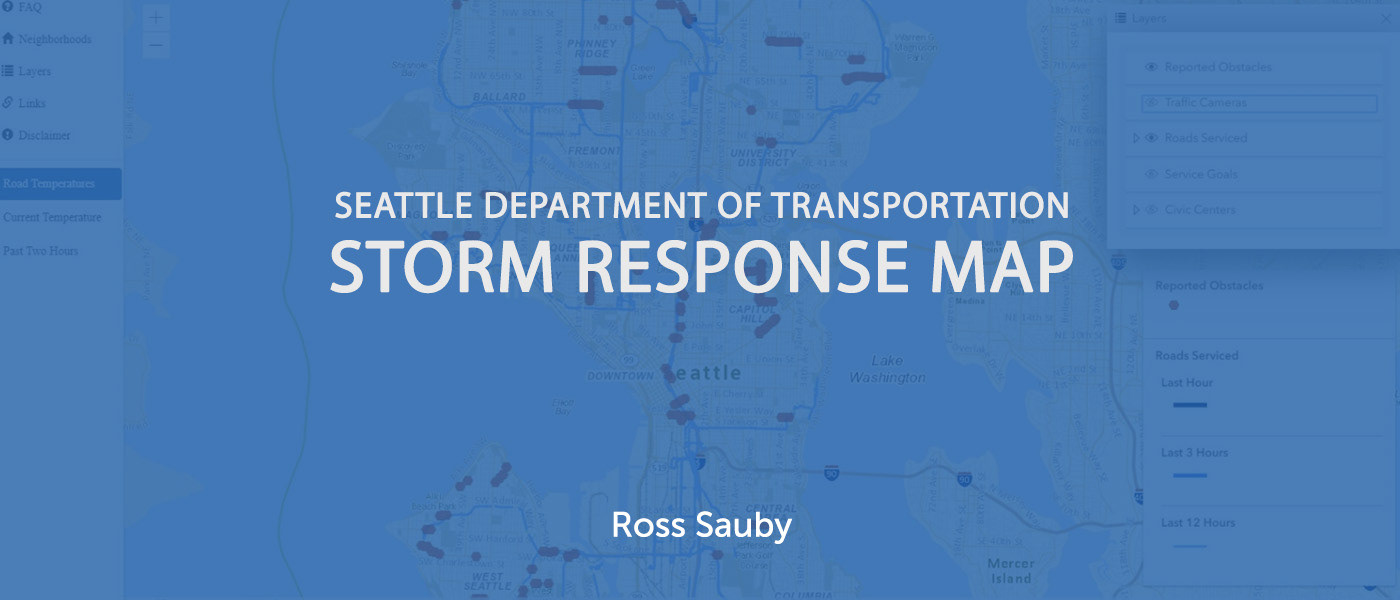 Seattle Residents' Wants and Needs When Commuting During Winter Weather
SDOT partnered with the CUTGroup to better understand residents' needs in terms of commuting during winter weather, how they use technology to plan their commutes, and their impressions of the Storm Response Map. 
Problem
SDOT's Storm Response Map
is used by SDOT and media (for example, to respond to winter weather road closures), but not by residents. Seattle has a lot of hills and congested areas which become hazardous during extreme weather. What is a typical resident's routine and priorities, and how can this resource be adapted for use by the wider population?
Study Goal
Understand residents' needs in terms of commuting during winter weather, how they use technology to plan their commutes, and their impressions of the Storm Response Map.
We designed this study to investigate how residents plan their commutes, what challenges they've faced in the past when commuting during winter weather (for example, during the period of heavy snow in Seattle in February 2019), and asked them how they might use the Storm Response Map to address those challenged.


Along with other members of CUTGroup, I moderated in-person testing with Seattle residents, asking the following sets of questions:
1.)
Your typical day:
Tell me about a typical day in which you're commuting around Seattle.
2.)
Planning your route:
Are there ways in which you check traffic or plan your route?
3.)
Making decisions about commuting in winter weather:
How did you plan your commute in the past during stormy weather? What were your main considerations? 
4.)
Challenges:
What challenges did you experience when commuting during winter weather in the past? 
5.)
Desired information:
What information would you want to know to figure out whether your commute is safe? How would you go about finding that information? 
6.)
Reviewing SDOT's storm response map:
What is your impression of this map? Are these data points useful?*
*SDOT created a QA version of their map for testing. It included some fake data for better contextualization, since testing was done in May. 
Once the interviews and testing were complete, our team began compiling the results onto an affinity map diagram from which we could then rearrange in order to uncover patterns. Information was organized into section by participant, and into colors correlating to the test questions.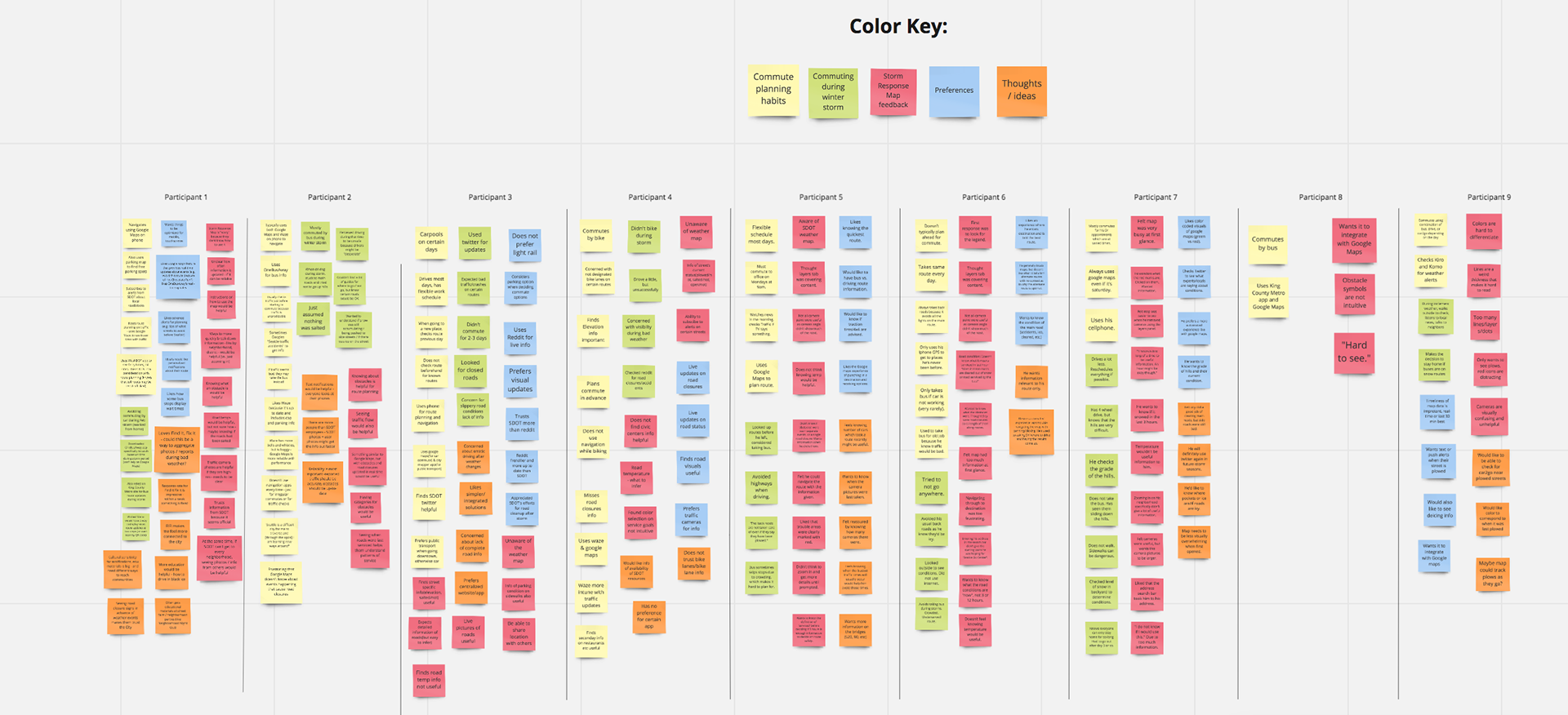 I lead the team in rearranging the affinity diagram into findings. As the patterns emerged we were able to quantify the amount of participants who conveyed similar thoughts, emotions, and feature requests.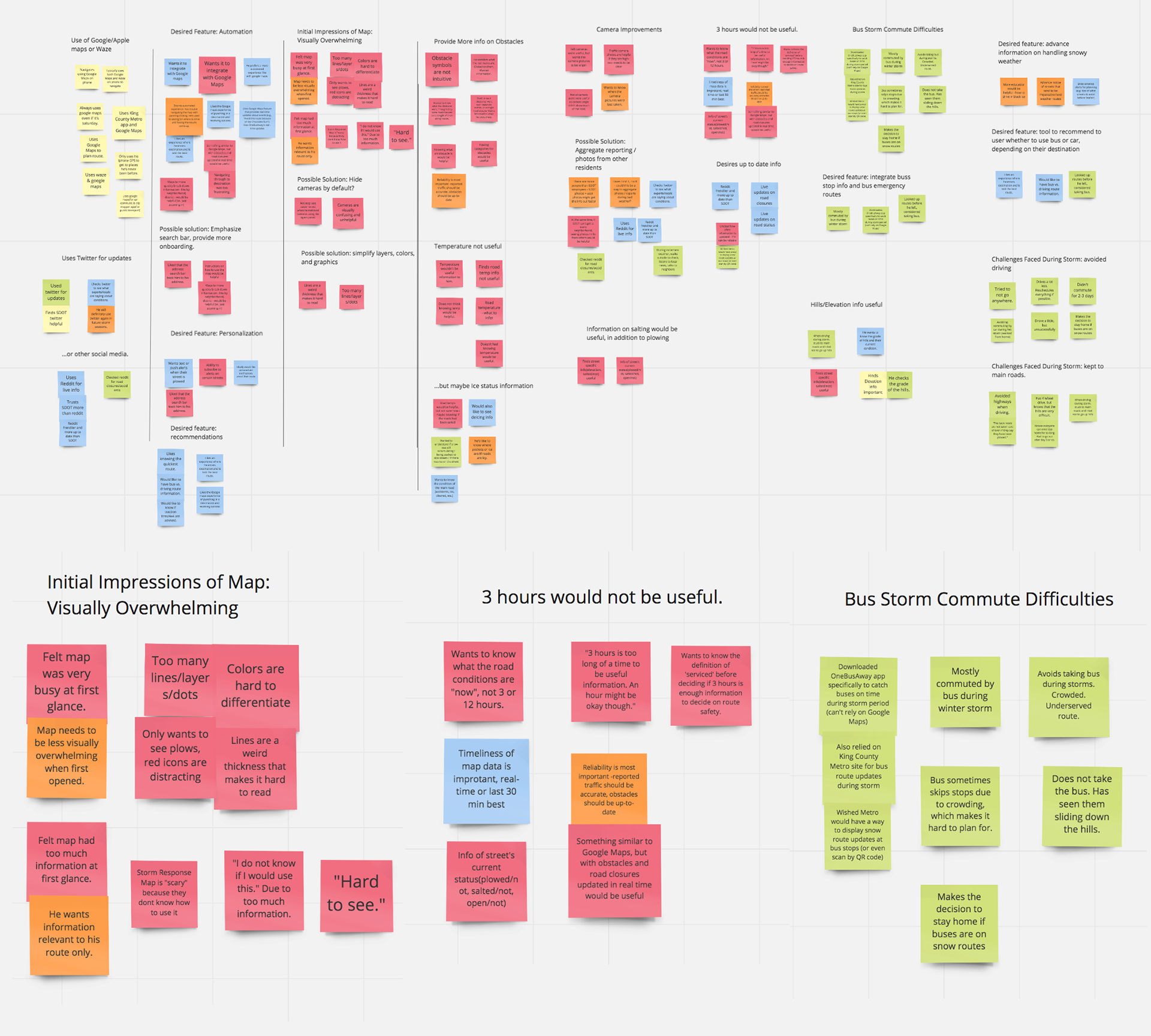 Different members of the team created their own categories on the affinity diagram. Once clear patterns emerged, I synthesized the map results into a report which could better articulate the findings of both the interview questions as well as user impressions of the SDOT map. Below are the key findings we uncovered: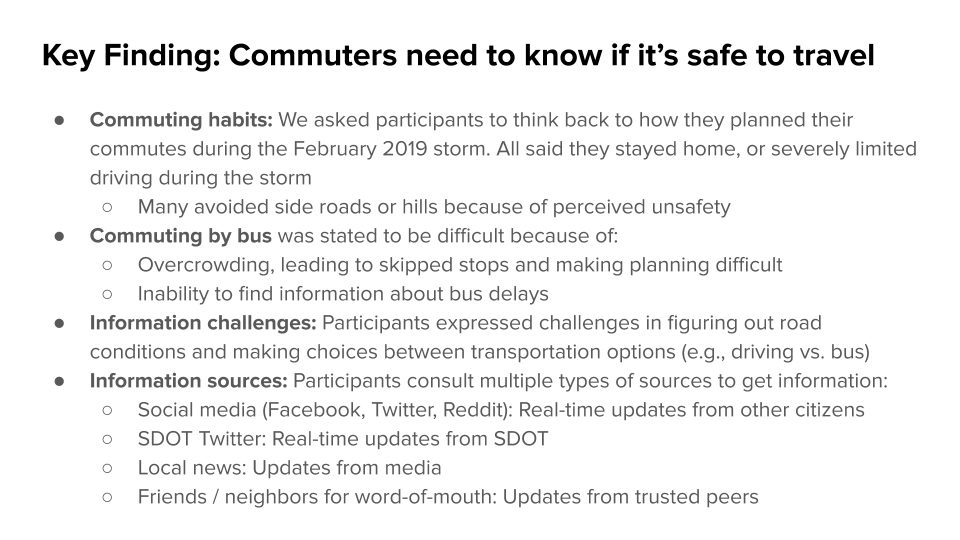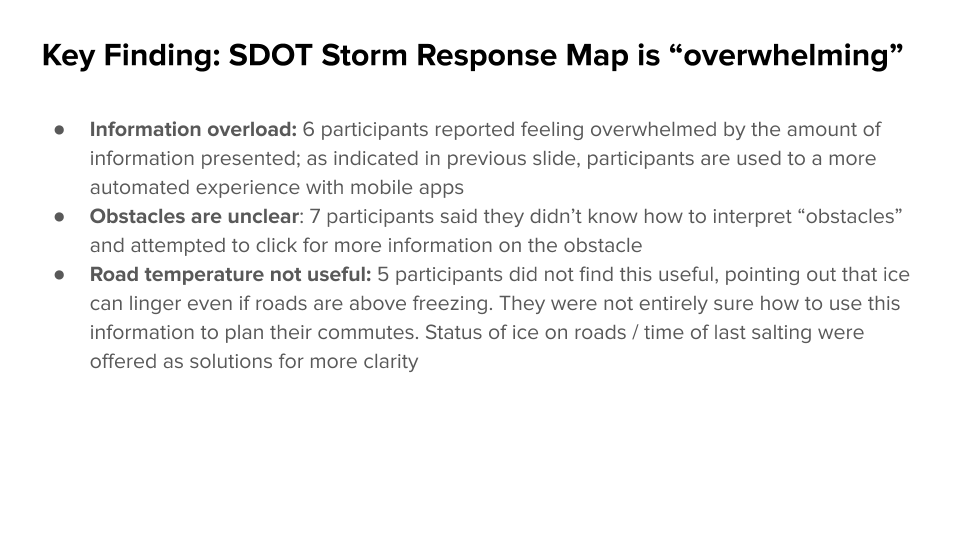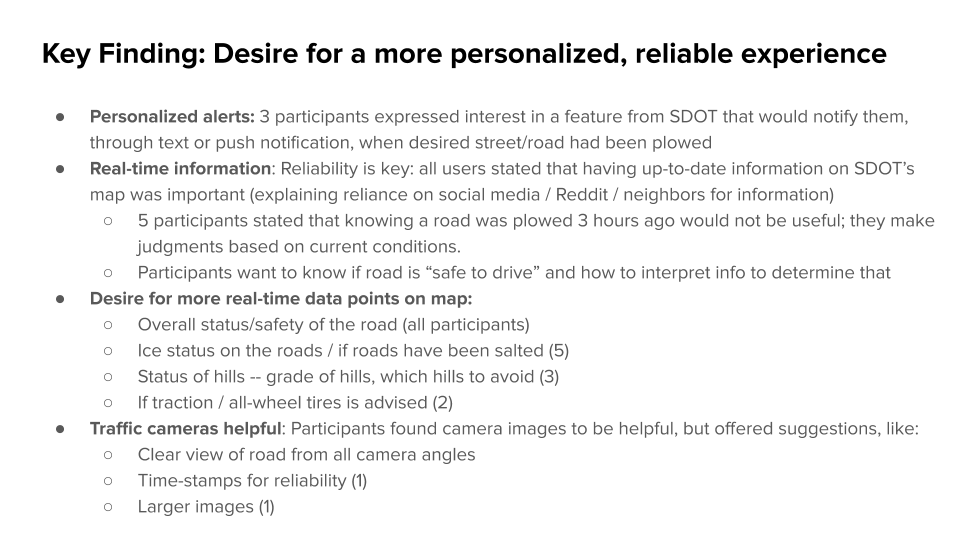 05

 Recommendations
Based on our findings, we then suggested a few quick changes as well as provided recommendations for more transformative changes that SDOT could make to better serve residents in planning their commutes during winter weather.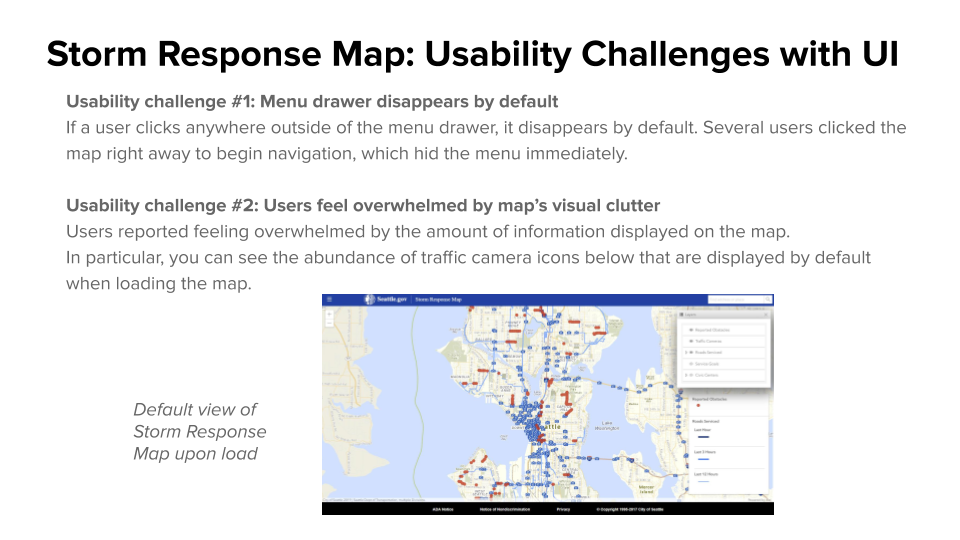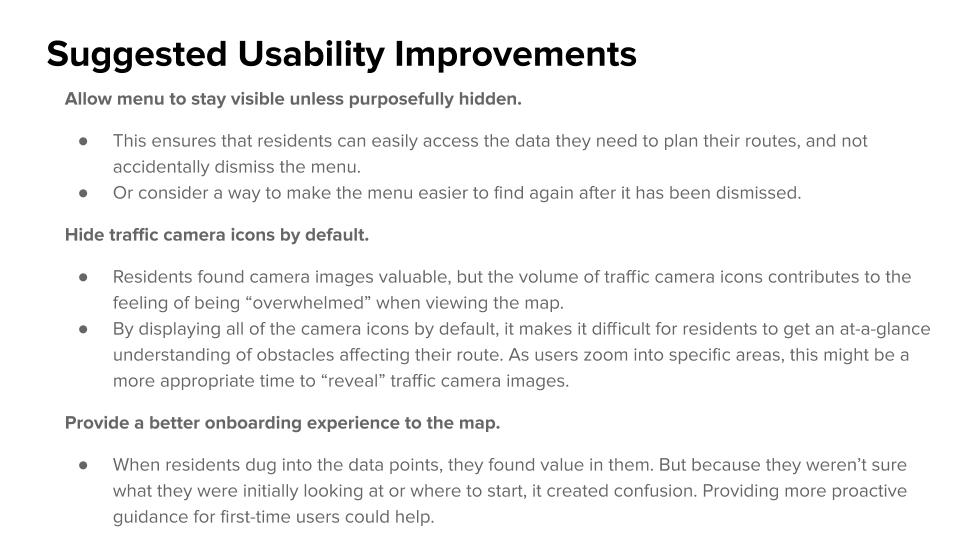 Below is the map with the proposed revisions: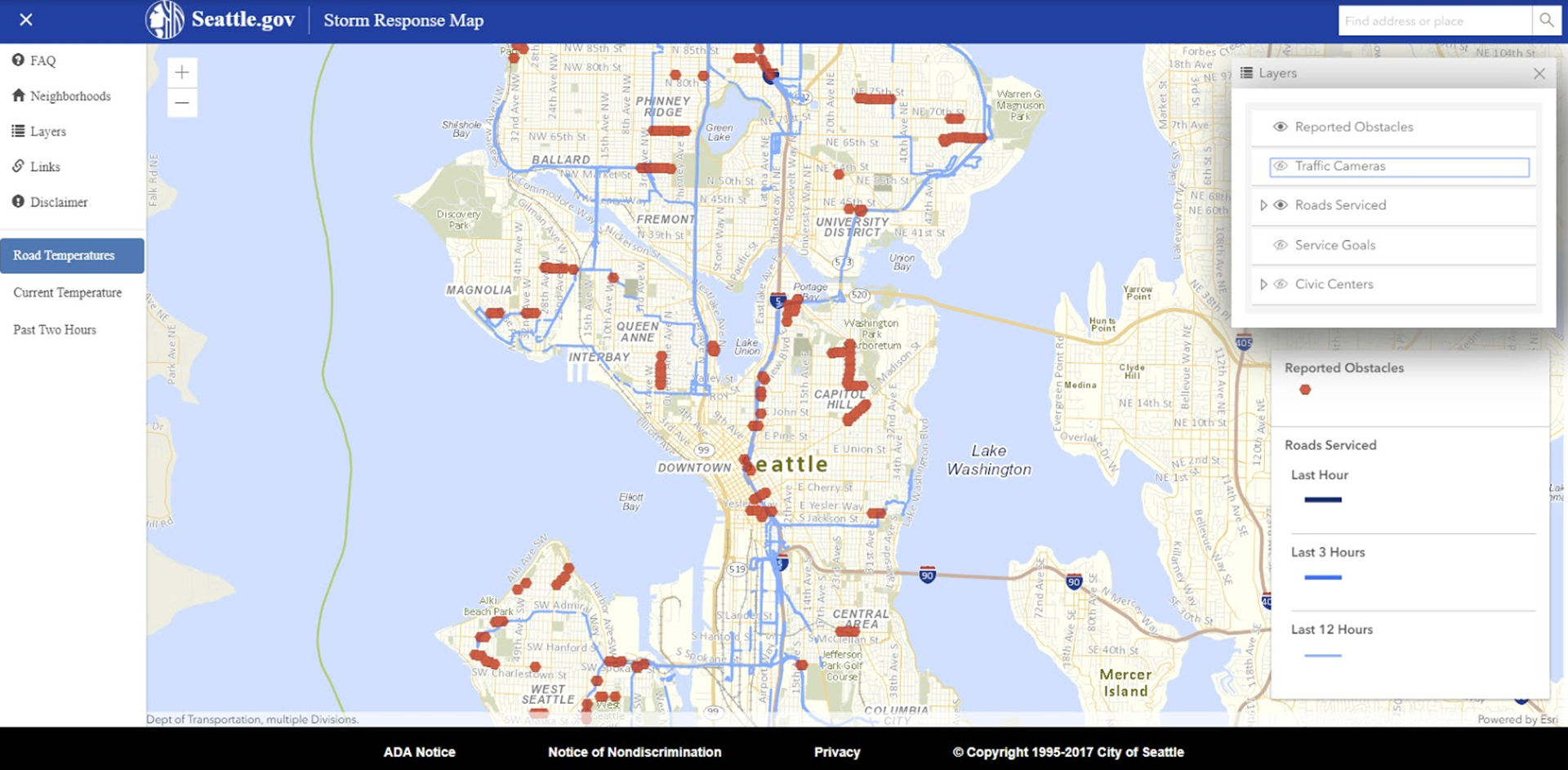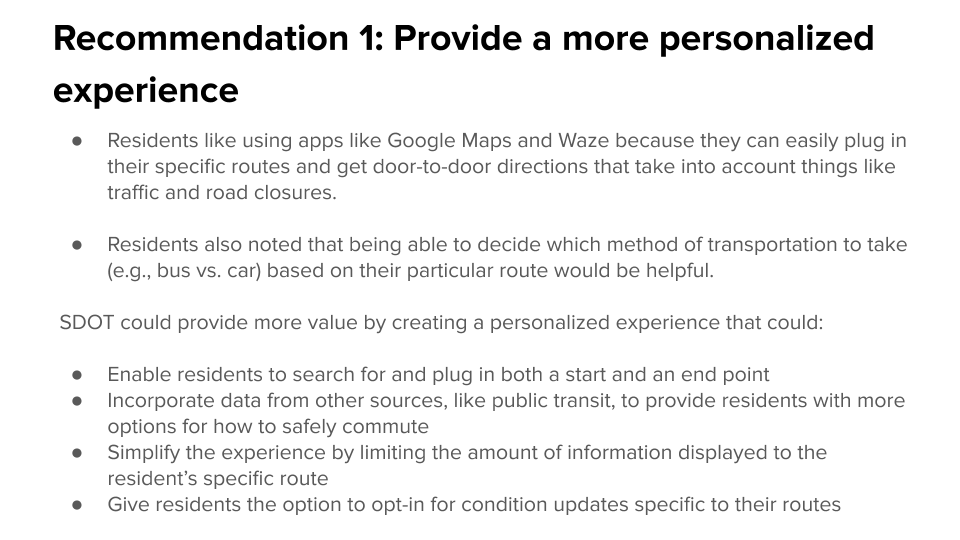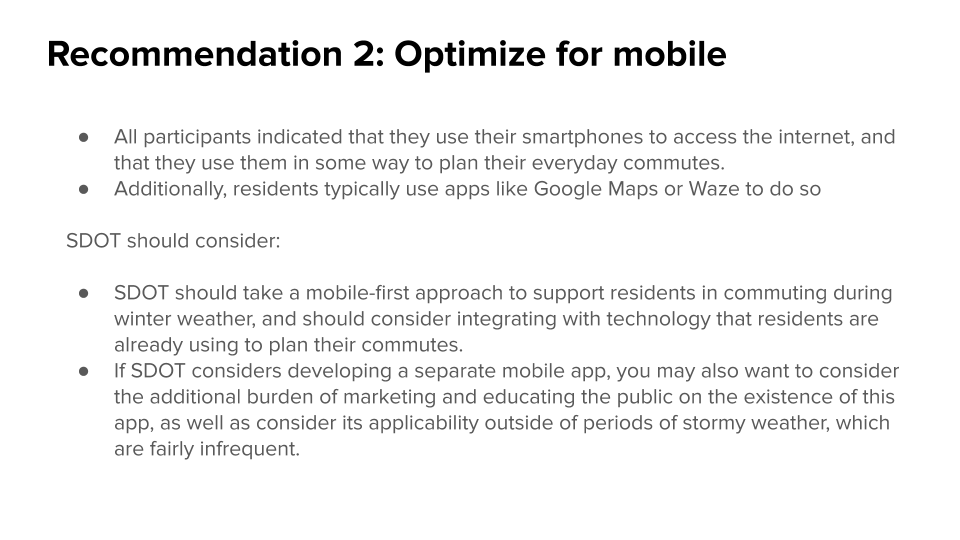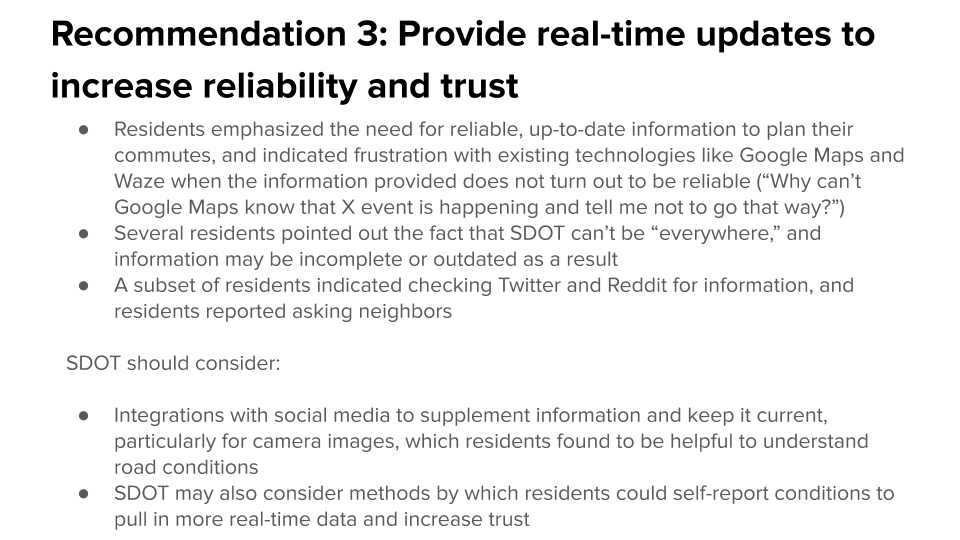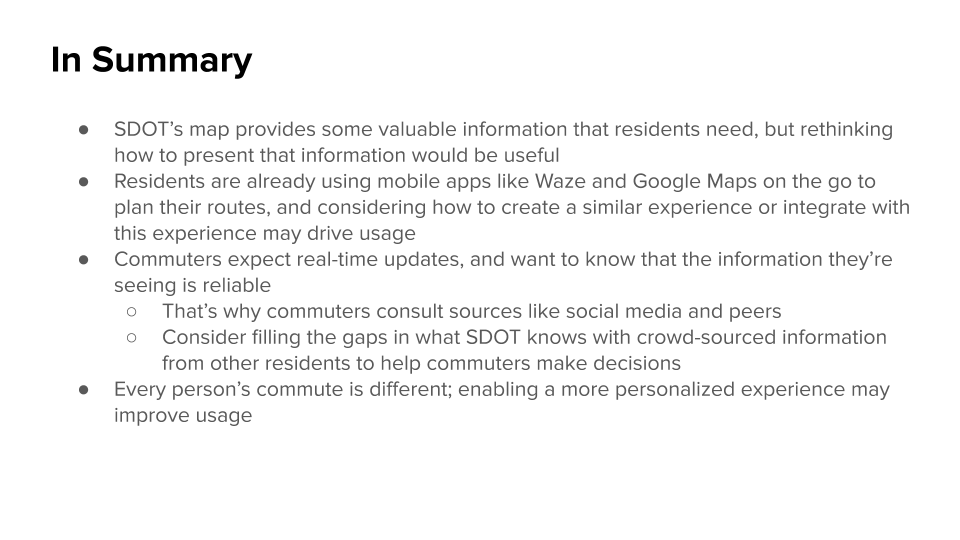 The Seattle CUTGroup works to bring best UX Design practices to areas of our community which do not typically have the time or budget for user research. My primary responsibilities in this project were to interview Seattle residents, and lead the team in the synthesis of that information into actionable tasks for SDOT staff. I'm proud to be able to use my skills to positively impact the community!
Below are links relevant to this project:
This projects 
Miro board
listing individual participant notes and summary takeaway.