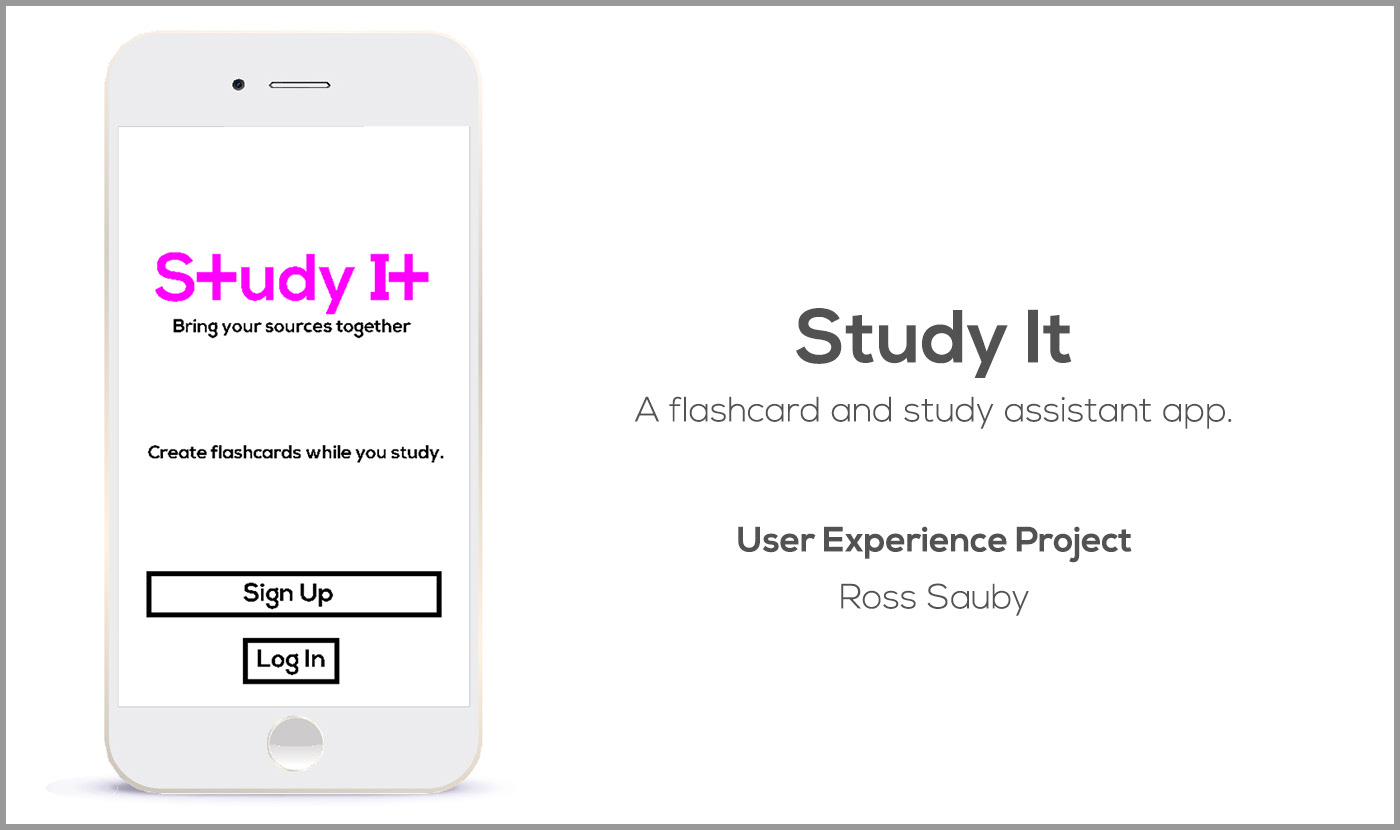 Study It allows users to create flash cards by simply highlighting text of their studied digital material, or easily accommodates the digitization of analog materials. I operated under heavy time constraints to bring a project from conception to testable prototyping, learning all the while of the data driven process behind human-centered design.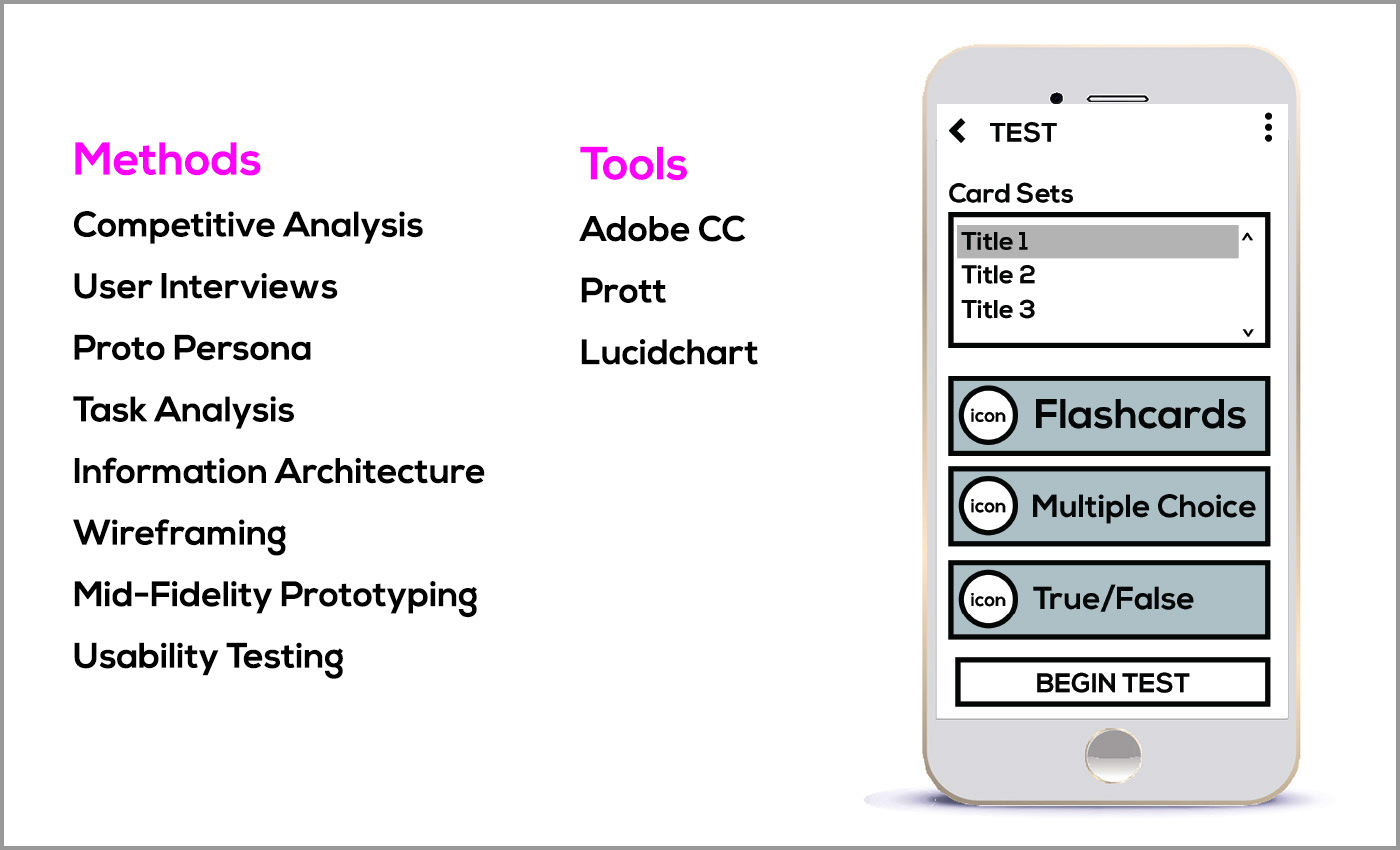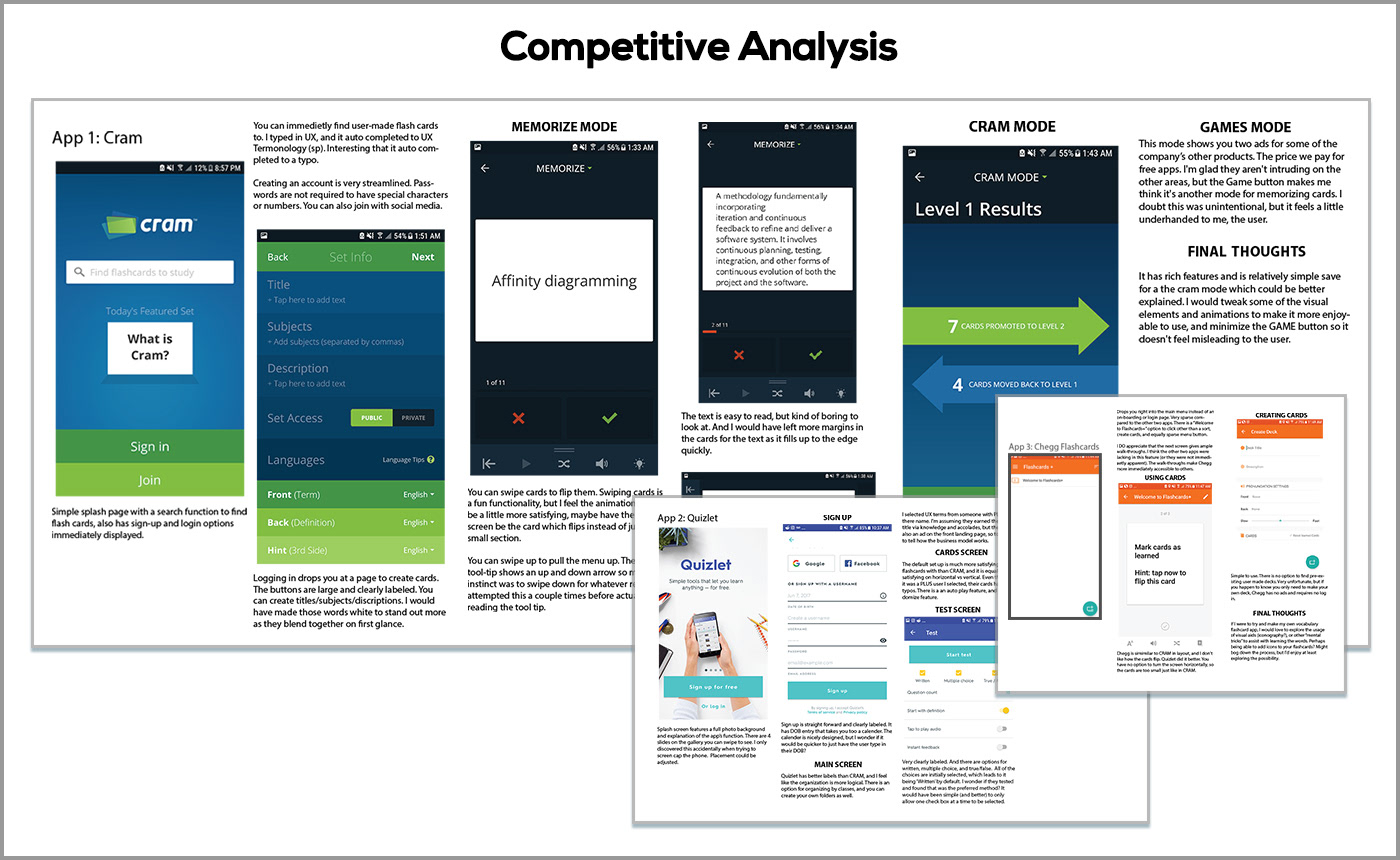 I initially studied three flashcard and study applications, Chegg, Quizlet, Cram, especially focusing on their study material creation functionality. After hypothesizing that being able to create flashcards directly from highlighted text would be a desirably feature, I studied another program Evernote. Evernote had the greatest usability in regards to creating study materials, but lacked key memory building functions such as flashcards or quizzes.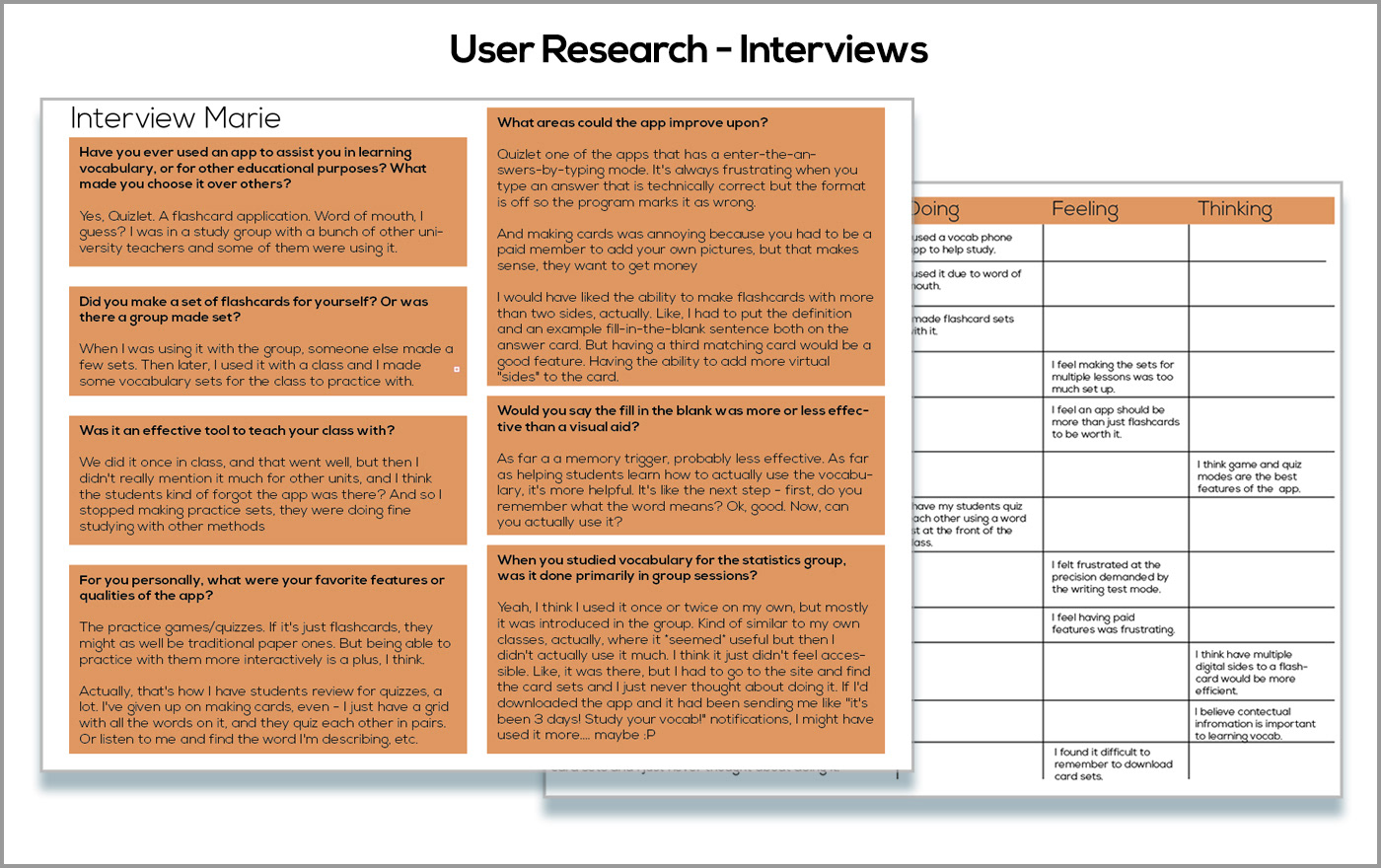 I conducted 4 user interviews. Interview questions were crafted to be open-ended; exploring study habits, experience with similar applications, and desired features.  Follow up questions were non-leading, but direct enough to attain information relevant to the project's goals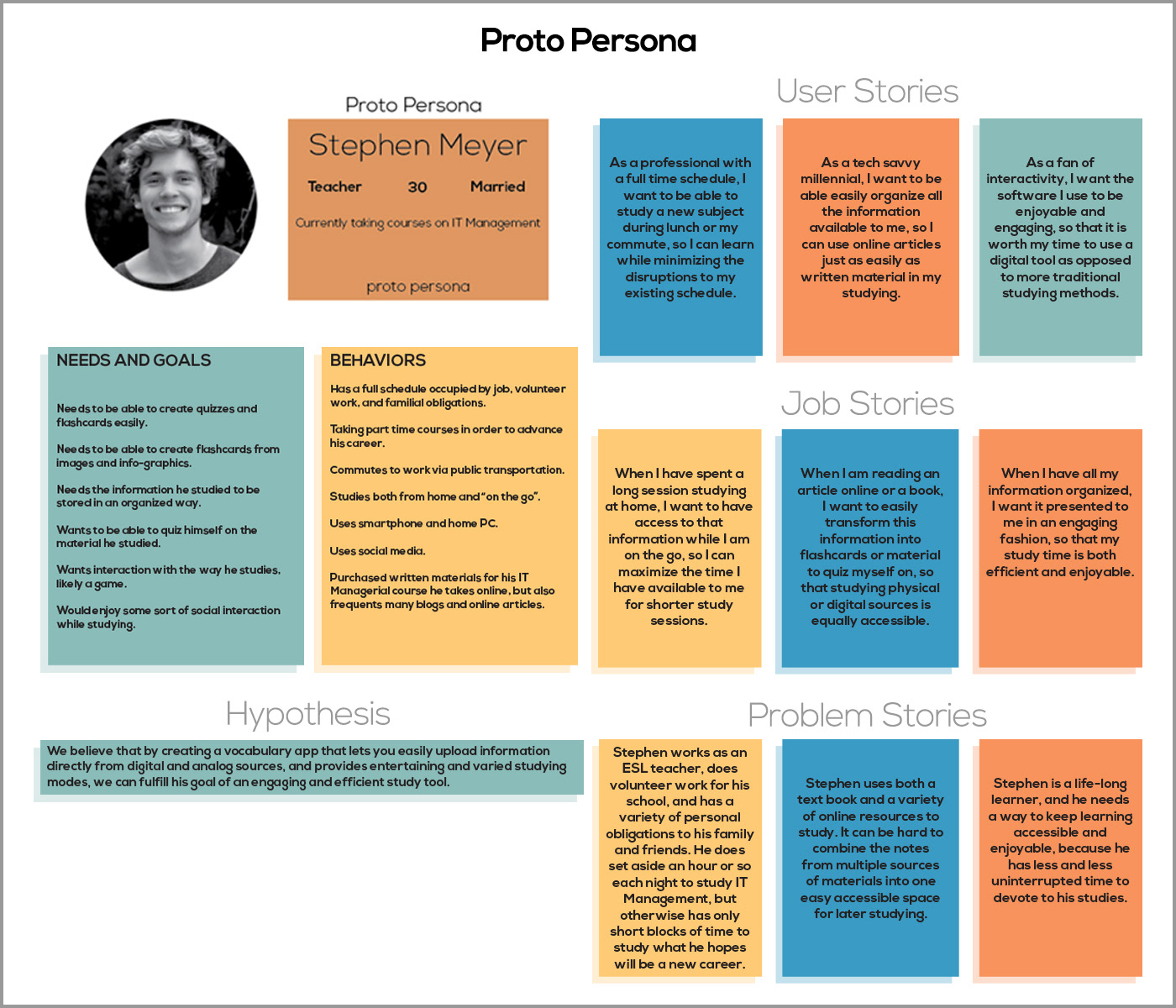 Due to time constraints only a proto persona was created, a young professional studying to change careers. Job stories, problem stories, and user stories were crafted to explore desired functions and possible pain points. My conclusions was that the application should primarily be accessible, flexible, organized, and memory building.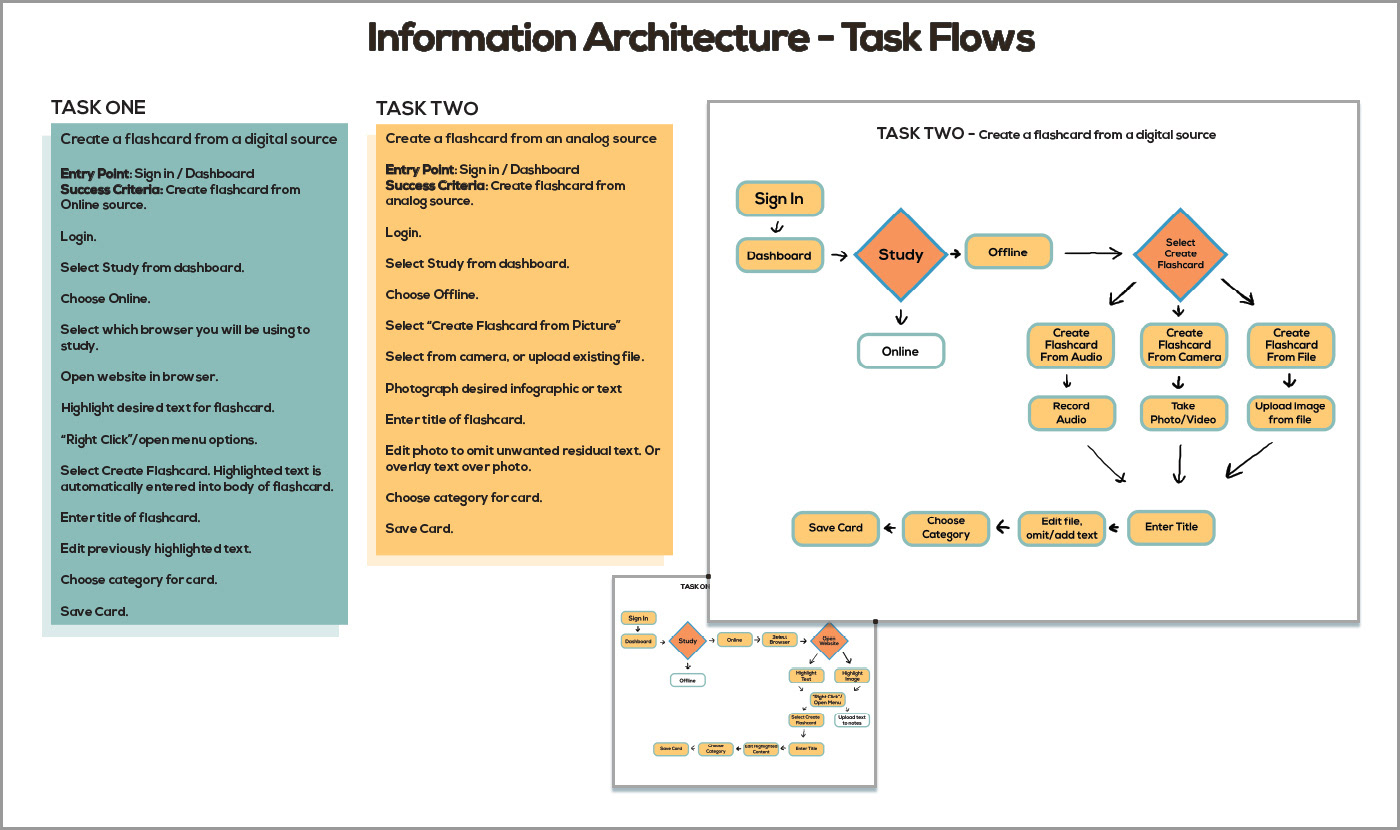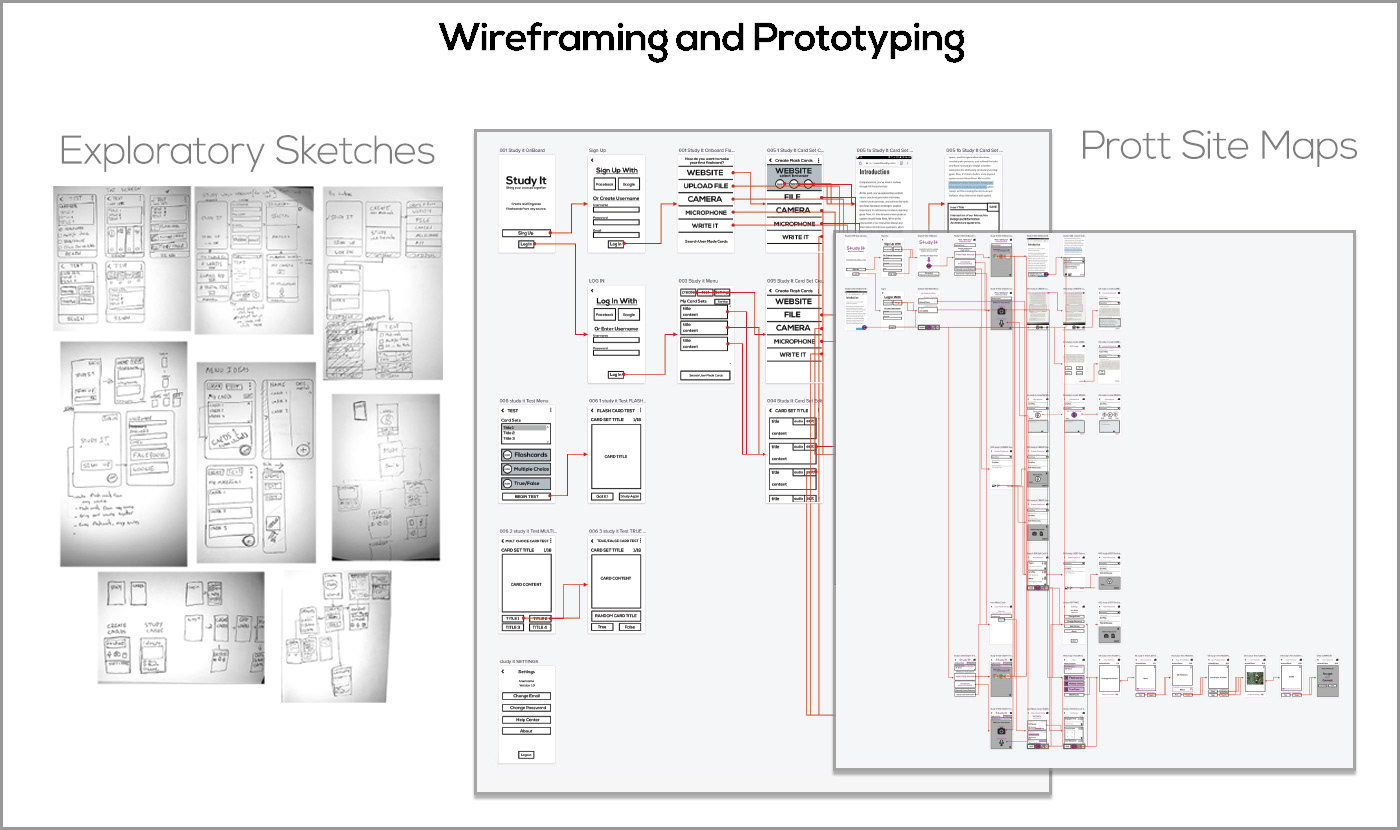 Rapid iterations of the application began with numerous pen and paper sketches. The two Prott prototyping application site maps show the scope and functionality of the project expanded over time.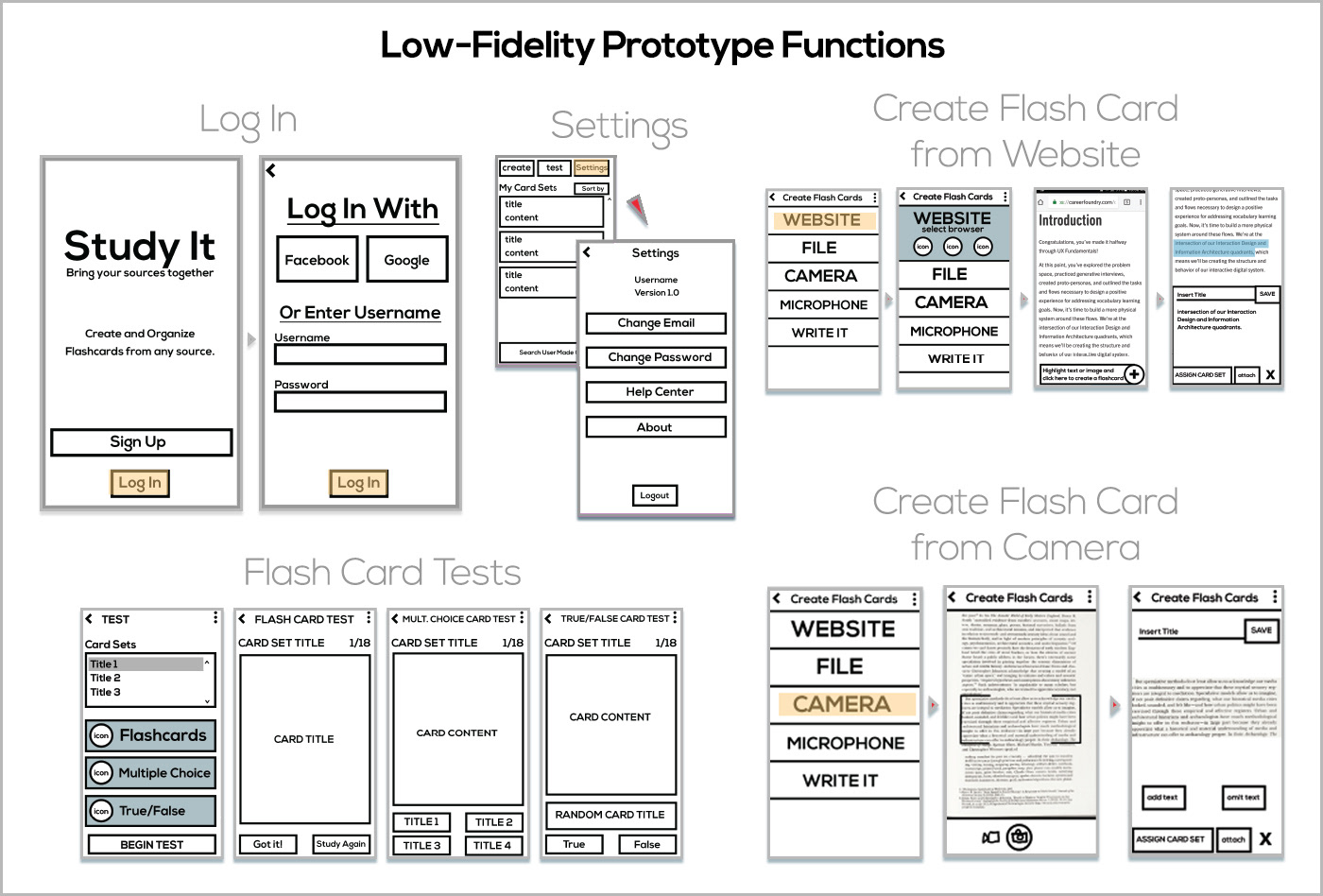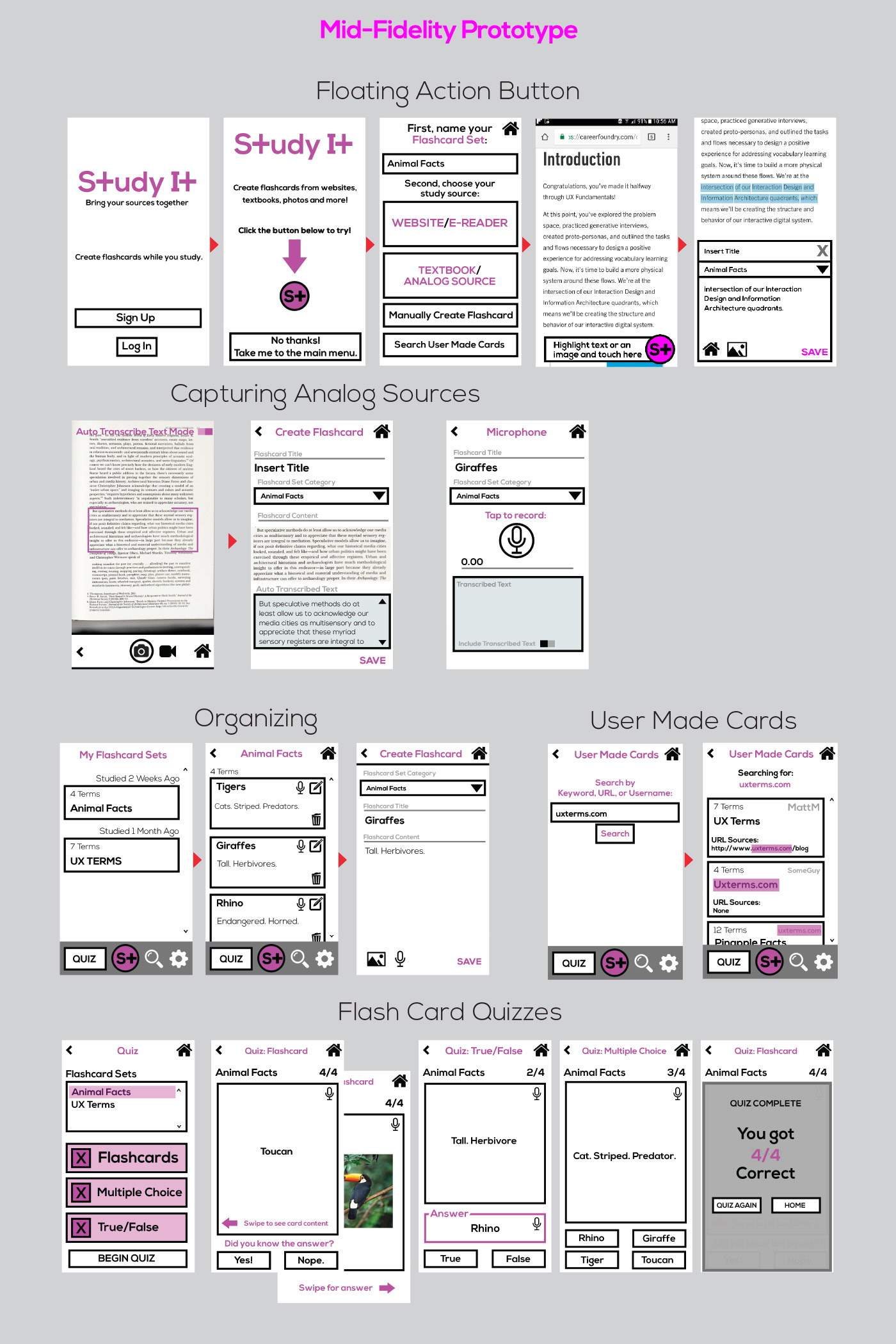 A floating action button which would be visible to the user over whatever website or document they were studying would greatly increase the usability of flashcard and study material generation. Low and mid fidelity prototyping began exploring the primary functions of generating flashcards, organizing them logically, and generating quizzes to be completed in short commute-length bursts. 
It was during these stages that I began to discover the limitations of mid-fidelity prototypes. The functionality of highlighting text from a website, hitting the floating action button, and generating a flashcard from this text required a lot of walk-through during usability tests. This is fine for a project in the early stages, but if I were to revisit this project I would be eager to simulate these functions with a more capable prototyping program.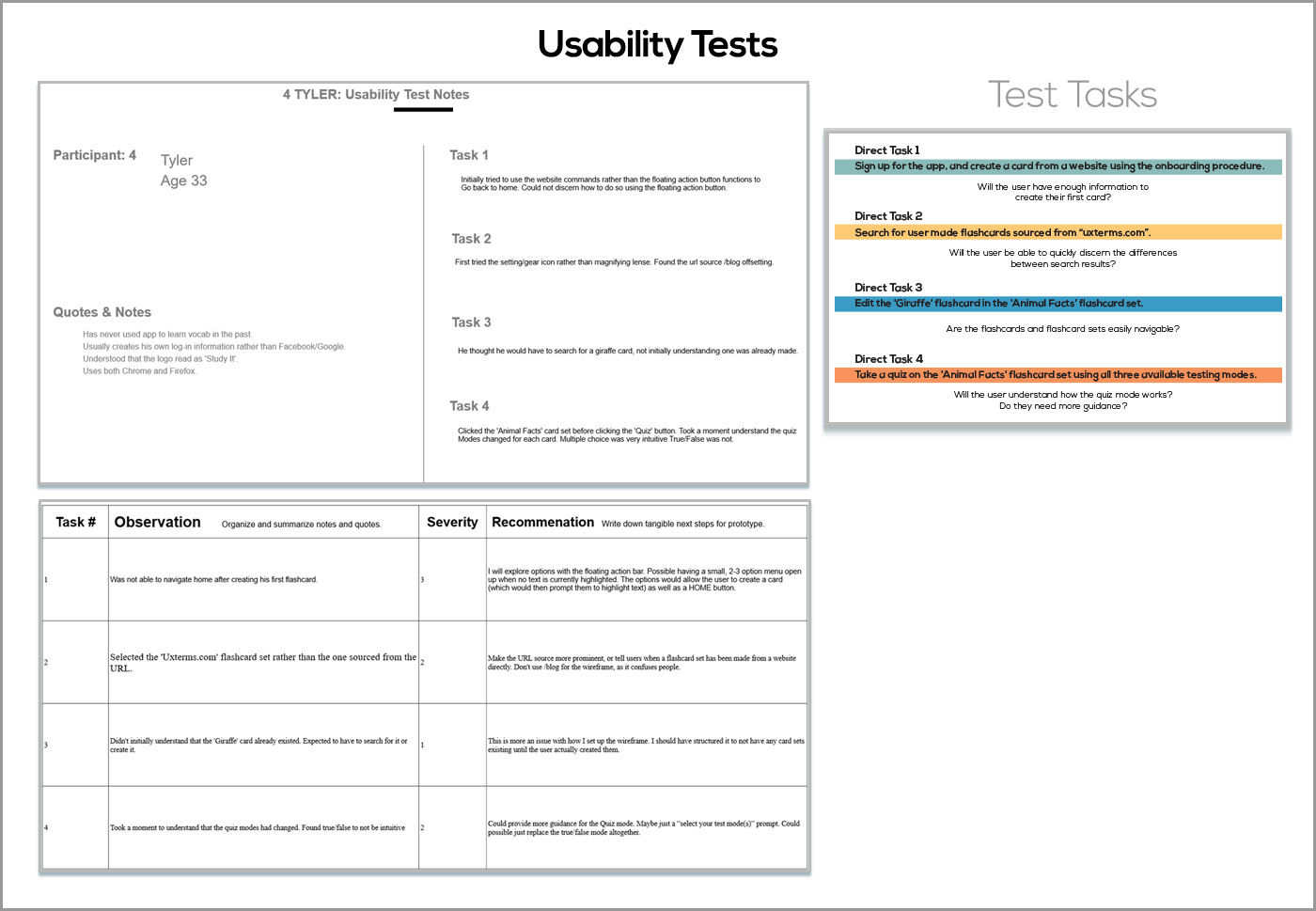 Five usability tests were conducted, the recommended number by the Nielsen Norman Group, with especial attention paid to errors committed while completing the four tasks. Errors were assigned a rating in accordance to the Nielsen's severity scale for usability problems.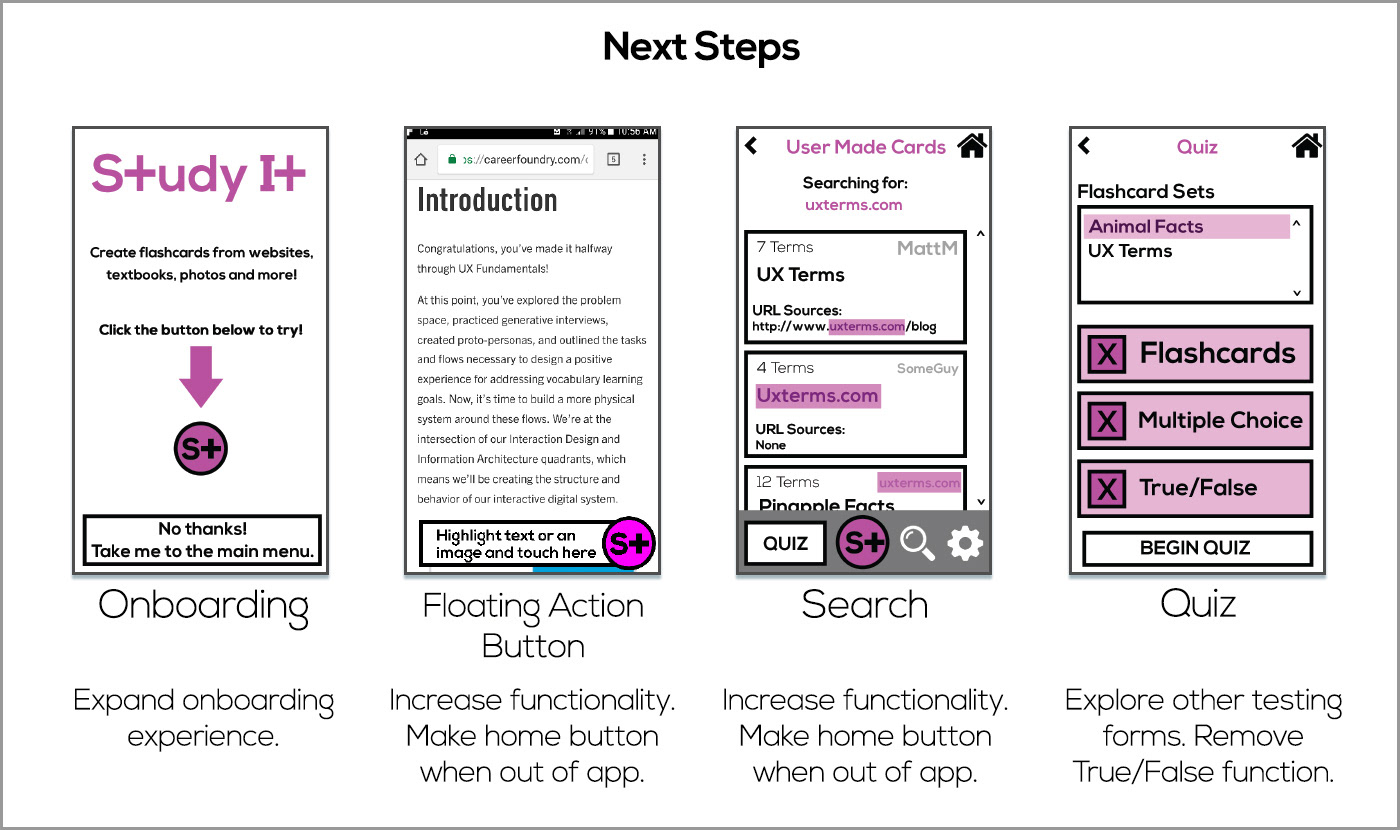 Usability test data was analyzed. Improvements were prioritized in accordance to how they rated in severity. Time constraints would not allow for further iteration/research/testing cycles, but I uncovered wealth of information in regards to the decision making process behind user behavior.
While this project was a quick experiment in UX design, there are a number of features I would have loved to further explore, especially simulated in higher fidelity. I learned from mistakes, built on my user driven iterative design cycle skills, became acquainted with the scope and scale of user driven projects, and became a better designer as a result.